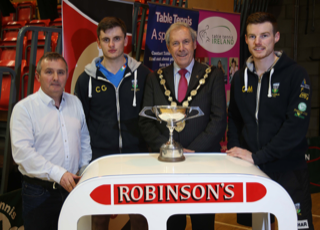 Ulster Open Table Tennis triple winner Gavin Maguire (right) from UCD sharing one of his 3 Awards, with Doubles partner Connor Gallagher (left) along with sponsor Jimmy Robinson and Lisburn Mayor Councillor Uel Mackin.
Sophie Earley (Ormeau), aged 12 years, became the youngest ever Ulster Open Table Tennis Women's Champion, adding the Senior Girls title for an unprecedented double! The Ulster Women's Trophy was a notable victory, defeating the highly rated 16 year old O'Rahally-Egan (Griffen Valley) in both Women's and Girls finals, while entertaining an appreciate audience.
Gavin Maguire (UCD) added the Ulster Men's Trophy for the first time to his bulging trophy cabinet, and crowned his day with a title hat trick. The Irish Champion defeated Ulster's Zak Wilson (Glenburn) in a fast-flowing Men's final, and added Doubles' Titles with Conor Gallagher (Men's) and Mia O'Rahally-Egan (Mixed).
The 2-day Lisburn Rackets Club event, supported by Lisburn and Castlereagh City Council and Robinsons Ice Cream, had over 150 competitors. Jimmy Robinson (Craigavon), a former international player over 7 years, had taken Ulster Doubles titles in his heyday, and was delighted to be joint sponsor through his Robinson Ice Cream business.
Robinson Ice Cream Ulster Open Results:
Men's singles: 1. G Maguire; 2. Z Wilson; 3= T Earley and N Cameron (Scotland)
Women's Singles: 1 S Earley; 2 M O'Rahally-Egan; 3= R Finn and Z Wawrzyniak
Masters: 1. A Robson; 2 P Owusu
Men's Doubles: 1. Maguire/Gallagher; 2. N Cameron/R Farrell
Women's Doubles: 1. TL Cashman/N Scott; 2. M O'Rahally-Egan/Z Wawrzyniak
Mixed Doublers: 1. Maguire/O'Rahally-Egan; 2. Z Wilson/R Finn
Under 21 Men's: 1. Z Wilson; 2 T Earley
Under 21 Women's: 1. M O'Rahally-Egan; 2. Z Wawrzyniak
U18 Boys: 1. A Pattison; 2 A McLaughlin
U18 Girls: 1. S Earley; 2. M O'Rahally-Egan
Restricted Singles: 1. M McAllister; 2. P Owusu
U15 Boys: 1 D Byrne; 2 J Skelton
U15 Girls: 1. S Heinen; 2. P Ragi
U13 Boys: 1. G Moravcsik; 2. F Hickey
U13 Girls: 1. E Flynn; 2 R Taylor
Hopes Boys: D McFaul; Hopes Girls: A McDonnell