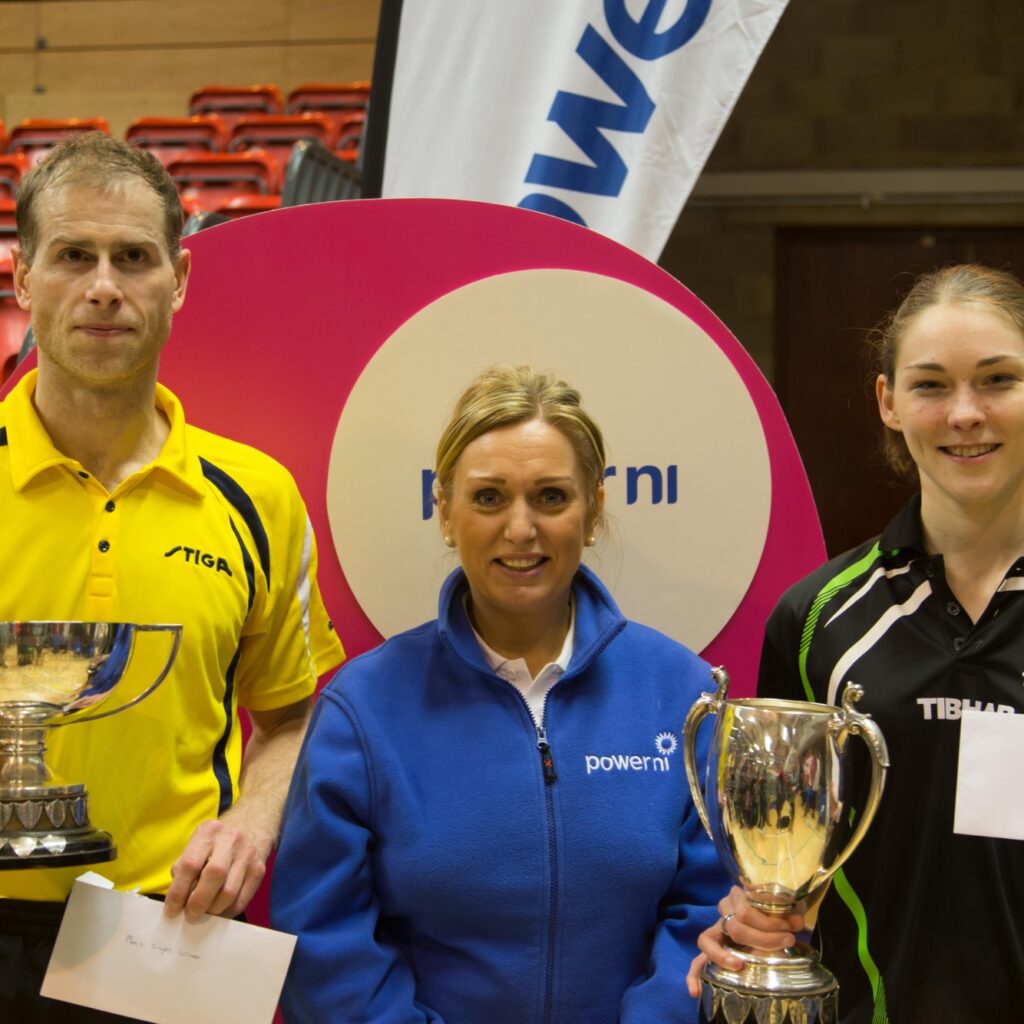 Carlow-based Miroslav Horesji (Czech Republic) showed brilliance in taking the Men's title and the coveted £1000 cheque at the Power NI Table Tennis Championships, with impressive victories over Chris Doran (England), top seed Gavin Rumgay (Scotland) and finally Ryan Jenkins (Wales), winning 3-2 in an enthralling men's final over top UK star Jenkins (Wales)
Amanda Mogey returned to her winning ways in Lisburn after a prolonged period of injury prior to the Glasgow Commonwealth Games, with impressive victories over Dublin's Katie McGlone (quarters), fellow G2014 team players Ashley Givan (semis) and Hannah Lynch Dawson (final), the latter two matches being won in close 5 set encounters.
Ulster players made a big impact in this new Power NI Ulster Open, with 200 competitors in action. Ulster's High Performance Coach and title holder John Murphy was taken out in a close five-set match by Peter Graham (QUB), and Zak Wilson (Civil Service) as leading Junior, stepped up a gear before loosing 3-2 to top seed Gavin Rumgay (Scotland) in 5 sets (scores -5, -8, 9, 5, 5 to Rumgay). Peter was then beaten in straight sets in the quarter-finals by top Irish player Paul McCreery.
Ashley Robinson, home from his professional club in Sweden, led Ryan Jenkins 2-1 and had his chances for a win, but lost the fourth set 11-9, leaving the match balanced at 2-2. However Jenkins demonstrated why he is a 50 Grand Prix Winner, easily taking the final set. Robinson's Irish partner, Paul McCreery (Crossgar) was the next to succumb to Welsh wizard Jenkins in the Semi-Final, with Jenkins reaching the final in a straight sets victory.
Meanwhile, the other half of the draw saw Scottish Champion Gavin Rumgay face Vladislavs Agjuranovs (Latvia), and many will remember Vladislavs defeating Rumgay in a recent Munster Open. This time it was not to be, with Rumgay pulling out all the stops to win a close encounter 8, -8, 9, 9 and set up a Rumgay v Horesji Semi Final. Horesji, former WR171, was imperious in this match, defeating No 1 Seed Rumgay in three straight sets.
The stage was then set for a Jenkins v Horesji Final, and it did not disappoint the many table tennis fans who had gathered to watch the quality matches. When Horesji raced to a two set lead 11-8, 11-8, it looked all over. But Jenkins had other ideas, and managed to turn the match around with some superb backhands. Buoyed up by the support of the crowed, he won the next two sets 11-9, 11-7. You could have heard a pin drop as each took their turn to serve in the final set, and Miroslav Horesji took a lead which he held to the end, winning 11-6 in final game.
The Men's Doubles was won by Jenkins/Murphy who defeated McCreery/Robinson 3-1 in the Final, after defeating Chris Doran/Mark O'Flynn in the Semis. Ryan Farrell/Sam Logue had a close quarter-final encounter with Doran/O'Flynn losing 12-10 in the 5th set.
The Ladies' Doubles saw two close Semi-Final matches with Hannah Lynch-Dawson/Sarah Timlin beating Chloe O'Halloran/Deirdre Murphy 11-7 in the 5th set, while the McGlone sisters Katie and Elayna had a huge struggle to defeat Amanda Mogey and Ashley Givan 12-10 in the 5th.
In the Under 21 Men's event, Ryan Farrell beat Brian Dunleavy over five games, while Zak Wilson only lost a set on the way to the final, to Alan Walsh. Zak raced to a two set lead, but Ryan kept his head to take the next three games and the Power NI Ulster Open U21 Title.
The Under 21 Ladies' Title went to Chloe O'Halloran who defeated Rebecca Finn in a close encounter 11-9 in the 5th set.
Philip Wallace combined photography duties with playing, and won the Restricted Singles, beating Luke Dempsey in the Semis over 5 sets, and Kevin Devaney in four, in the Final.
The Masters' Singles was won by Pat McCloughan who defeated Wallace Mahaffy in the Semis over four sets, and Willie Cherry in the Final. Willie had once again had an epic battle over team-mate Norman Nabney in the Semis, winning 11-8 in the final set.
Conor O'Callaghan took the Junior Standing Disability Title, Paddy Vaughan took the Senior Standing Disability Title, while Greg Keogh won the Senior Wheelchair event.
The Junior Boys (U18) Title was won by Zak Wilson, with Tom Davis 2nd and Owen Cathcart (still only 12 years old) finishing 3rd. The Junior Girls Title was won by Hannah Lynch-Dawson (Ladies Singles Finalist), with Kate Whelan 2nd, Chloe O'Halloran 3rd, and Katie McGlone 4th.
The Cadet Boys (U15) title was won by the irrepressible Owen Cathcart, after a 5th set scare in the quarters with Ethan Duffy. James Kelly finished in 2nd place, Dylan Grace in 3rd, with local player James Magrath in 4th place. The Cadet Girls title went to Kate Whelan in straight sets over Marie Williams, while Mia O'Rahilly Egan finished 3rd, and Grainne O'Rourke in 4th place.
The U13 Boys Title was won by Thomas Joyce in straight sets over David Taylor, with Dillon Bryne and Art McLaughlin 3rd and 4th respectively. The U13 Girls Title went to Mia O'Rahilly Egan with a four set win over local player Lucy Craig, while Natasya Barry and Saoirse Jordan finished 3rd and 4th respectively.
A guest appearance by Toonie the bear added to the fantastic atmosphere throughout the weekend, and the quality play enjoyed by all players and spectators made this combined Ulster Open/Ulster Junior Open an event to remember.
Table Tennis Ulster is indebted to the sponsorship and financial assistance from Power NI and Lisburn City Council, as well as the team-work from all the volunteers, including those from Volunteer Now and Disability Sport NI who also gave support to the event which involved many weeks of preparation and planning. Chair of TTU Arnold Morgan paid tribute to all who had worked so hard at the first joint event in Ulster, while President Tony Phillips MBE paid special tribute to the McConkey family who had organised the event so well over the weekend.