At a superb Stiga Connacht Senior Open last weekend, Paul McCreery and Hannah-Lynch Dawson beat all competitors to take Connacht Senior Open titles home with them. The Open was held at Breaffy Sports Arena, Castlebar, Co Mayo and proved to be one of the more memorable Open's hosted by Connacht.
In the Women's event, Hannah-Lynch Dawson defeated Ashley Givan in a 5 set thriller. Dawson won the first set 12-10 but Givan responded by winning the next 2 sets 13-11 & 11–8. Dawson fought back to take the 4th set 11-9 to bring the Women's Open decider to a 5th set. Dawson's composure got the better of her Ulster rival on the day taking the 5th set 11–8 with some outstanding play. It was a fantastic performance from Dawson who showed from the Irish Senior Women's classification signs of posing a serious threat this season. The 3rd / 4th place playoff went to the 5th set with Jean Wyse the eventual winner over Marta Zareba from Pionners TTC, Dublin.
In the Men's event, Paul McCreery defeated John Murphy in three straight sets. However, the first two sets proved to be a tight affair with McCreery winning 13-11 and 12-10. Spectators were anticipating a comeback from Murphy in the 3rd set but that wasn't to be case with McCreery reinforcing his dominance at the event by taking the 3rd set 11-4. It is without doubt that McCreery has all the attributes of a National Champion and this could come sooner rather than later! Ashley Robinson proved too strong for Tibor Pofok on the day winning 3rd / 4th place playoff in three straight sets: 11-8, 11-9 and 11-5.
Before the Staged Men's and Women's Final, a special presentation was made to Kevin Devaney by our President Joseph Hickey and Irish Table Tennis legend Tommy Caffrey. Pictured above is the 'Tommy Caffrey Trophy' being presented to Kevin by both Joseph and Tommy for his performance at this year's Senior Interprovincial Championship. Kevin was selected by the President(from a list nominated by NPCs) as 'Player of the Championship' for his performance on and off the table. Well done Kevin you have done Connacht proud!
The weekend kicked-off with the Men's and Women's doubles. With the Men's top two seeds forming a partnership, it was inevitable that they would go all the way to the final. Both Kevin Mackey and Artur Lewanczuk have to be commended for their performance knocking out tough opposition on their way to the final only to be defeated by Murphy and McCreery. The Women's doubles proved to be a tighter affair with Hannah-Lynch Dawson and Sarah Timlin taking the Women's Doubles Title in a round robin format. They finished ahead of Ashley Givan and Annalise Walker which proved to be a close encounter!
Saturday afternoon saw the Mixed Doubles Players taking control of the arena which proved to be a popular and exciting event. Marta Zareba and Dariusz Zatylny battled their way to the final to set up an encounter with hot favourites Ashley Givan and Ashley Robinson. The two Ashley's were on fire and breezed through the opposition to be crowned Connacht Open Mixed Doubles Champions 2012.
Class II started the proceedings on Sunday with Brian Devereux, Marcus McDonnell, Terry Dolan and Kevin Devaney progressing to the semi-finals. The two semi-finals produced 5 set thrillers with both Marcus and Kevin overcoming Brian and Terry respectively. Marcus McDonnell was in fantastic form defeating Kevin Devaney in the 5th set 11-9. This is a major achievement for Marcus considering his absence from the Irish Table Tennis circuit for some time.
In the Men's U21 Conor Beades defeated Ryan McConkey in the Final. McConkey put in a good performance but experience got the better of the Junior. In the Women's U21 event Sarah Timlin secured her third Connacht U21 Open Title by beating her younger sister Orla. Orla Timlin has made a welcome return to Table Tennis and a player destined to follow her older sisters footsteps.
The Masters Final brought an exciting end to the Connacht Senior Open with some superb table tennis. The Final turned out to be the 'match of the weekend' with Connacht rivals Terry Dolan and Kevin Devaney battling it out for the Connacht Open Masters Title. It was sweet revenge for Dolan having been beaten by Devaney in the Class II semi-final. Devaney took Dolan to the fifth set but Dolan held his nerve and recorded yet another Open Title.
The Connacht Branch would like to thank both Joseph Hickey and Ken Strong for their valuable advice leading up to the event. Without the support of the ITTA, this event would not have been possible!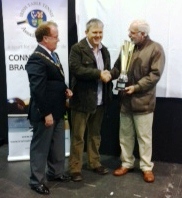 Full results available here.