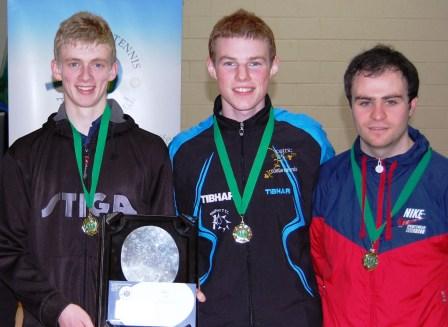 The 2009/10 National Team Tournament was staged over the weekend of November 21/22 in Firhouse Sports Centre, Dublin. With entries significantly up on last year, the National Team Tournament title is fast becoming a sought after title on the Irish domestic calendar. Firhouse is a new venue for table tennis and the facility was a popular one with players, with large court sizes and good ancillary facilities.
With some of Ireland's top players in attendance, the standard of play was very high, particularly in the Premier Division. Both divisions went to the final match and it was particularly good to see entries from some new teams who also will have enjoyed the event.
In the Premier Division, both Eastpoint 1 (G Maguire, J Murphy, S Hanley and Palais (D Strong, P McCreery, K Knox) had each won all 5 of their previous matches so their encounter was essentially the Final. The Ulster based Palais moved into a 2-1 lead with an exciting five setter with Daryl Strong taking the 5th 11-9 to beat Gavin Maguire. The pressure was on John Murphy to keep Eastpoint in the match and he duly delivered, squaring the match 2-2 after another tight five-setter against Paul McCreery. The deciding game was between Sam Hanley and Keith Knox – Knox produced some fantastic table tennis, but Hanley eventually triumphed to take the match and the Paddy Berrigan trophy for Eastpoint. It was a successful weekend for Eastpoint TTC as Eastpoint 2 also finished 3rd in the Premier Division, with Mark O'Flynn, Ryan Farrell and Daniel Keenan winning 4 of their 6 matches.
In Division One, Lucan's Club Donic(T Fitzgerld, S Zhao Li, S Mealey and C Mullally) and Wexford's Ballymurn(B Devereux, S Devereux, C Cooper, J Cooper) brought 100% records into the deciding match. After the initial 4 games, which including a tense 5 setter between Sabina Devereux and Conor Mullally which Devereux took, the match was all square at 2-2, when cadet newcomer Shi Zhao Li took his final game in comfortable fashion on a scoreline of 3-0 to secure the Division 1 title for Club Donic.
Many thanks to the staff at Firhouse Sports Centre, to Tournament Referee Tony Martin and to Shay Logue for his assistance over the weekend. Also thanks to Con O'Ceadaigh and members of the Irish Table Tennis Umpires Association who assisted in the smooth running of the event. Congratulations to Eastpoint TTC and Club Donic on their titles – we look forward to continuing the growth of this new even next season.
Click here for final tables.