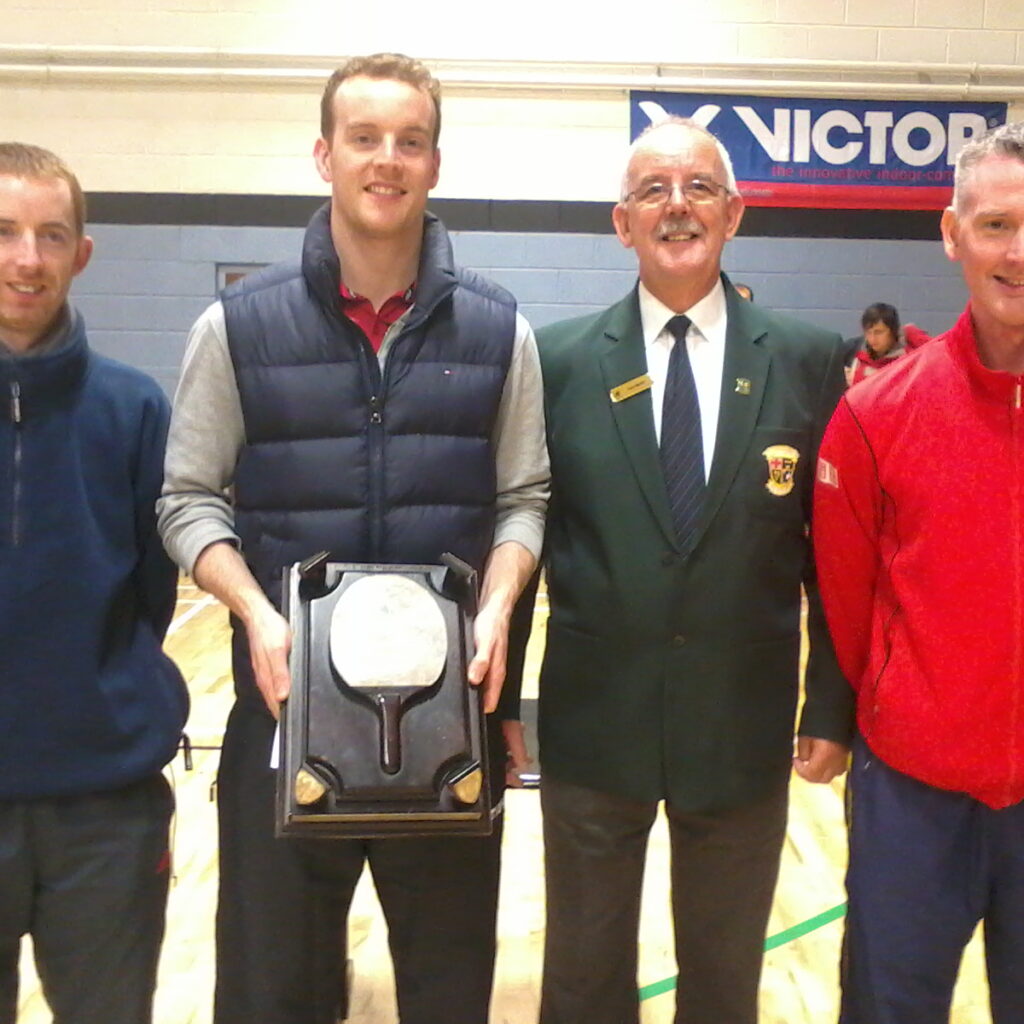 Queens University(pictured above with President of ITTA Leinster Branch Mr.Tony Martin) are the National Team Tournament champions following a hard fought event win last weekend in Roadstone. The event saw an entry of 15 teams, spread across 3 Divisions according to ranking position.
Premier Division Review
With a strong team of Daryl Strong, Phil Wallace and Peter Graham, Queens would have expected a strong performance and will be delighted with the victory. They were pushed all the way by both Club Donic sides and showed real steel to claim the National Team title with 4 wins from 4. The deciding match against Club Donic 1(Conor Nolan, Paul O'Toole, Conor Fahy) was an intriguing match, with Nolan claiming big wins over both Strong and Graham. This has been a solid season for Nolanand he went unbeaten at the NTT to further illustrate his current form. The match between the Number 3's of both teams was pivotal, with O'Toole racing in to a dominant 2-0 lead. Phil Wallace fought back admirably, taking all 3 remaining sets in a titanic struggle to claim the win. The final match was a decider for both the match and the title, with Daryl Strong showing all his experience and ability to recover from 1-0 down to claim the win over Fahy.
Elsewhere in the Division, UCD's Kevin Hutchinson had two really good wins over Pioneers' Zatylny and Mackey as he continues to move up the Senior rankings. Perhaps the biggest surprise of the day was Donic 2's Conor Mullally(Ranked 29) straight sets win over Peter Graham(Ranked 7). This was a big win for Mullally and capped a good weekend for a strong Club Donic outfit who claimed both 2nd and 3rd place in the top Division.
Division One Review
With Ulster's Queens claiming the Paddy Berrigan Trophy, eyes turned to the 2nd tier with some very strong players and teams in action. It looked like a battle between Connacht's Galway TTC and Munster's Leeside TTC and that is the way it developed.
Galway had experienced campaigners Terry Dolan and Robbie Gavin with newcomer Dominik Greliki – they progressed cpomfortably through their first 3 matches before the title decider against Leeside TTC. Leeside TTC had Alan Walsh, Matt Haynes and late replacement Ben Haughton in action. This one was another match that went all the way, with Dolan and Grelicki registering two wins for Galway, Alan Walsh and Matt Haynes levelling matters for Leeside TTC. The final match pitted Grelicki against Walsh and this was a thrilling encounter with Walsh going two down before a change of tactics and a focus on big forehand returns saw him fight back to claim a big 3-2 win and the division title for Leeside. Grelicki looked a fine player over the course of the event and will be a player that could take some scalps at the upcoming Munster Open.
So Leeside claimed the Division One title, with Galway in 2nd and John Dennis and his Diamonds claiming 3rd spot.
Division Two Review
New South Dublin outfit Dundrum TTC were big favourites in this Division – a strong looking team of Barth, Szulcs and Marta Zareba looked a class apart. The deciding match was against Beechhill TTC, with Billion, Shaw and Victoriu representing the Munster club. Zareba got Dundrum off to a winning start with a win over Shaw and from there, Dundrum never looked back, going on to claim a 3-1 win and the Division Two title – a strong performance and one that they will look to replicate at a higher level next season.
Overall a great day of play at the Roadstone venue. As always thanks to the clubs and players who participated – this is the only National Club event and represents a great opportunity to players to represent their clubs at National level. Congratulations to Queens TTC, Leeside TTC and Dundrum TTC and thanks as always to our top class volunteer team, in particular Tournament Referee Tony Martin.