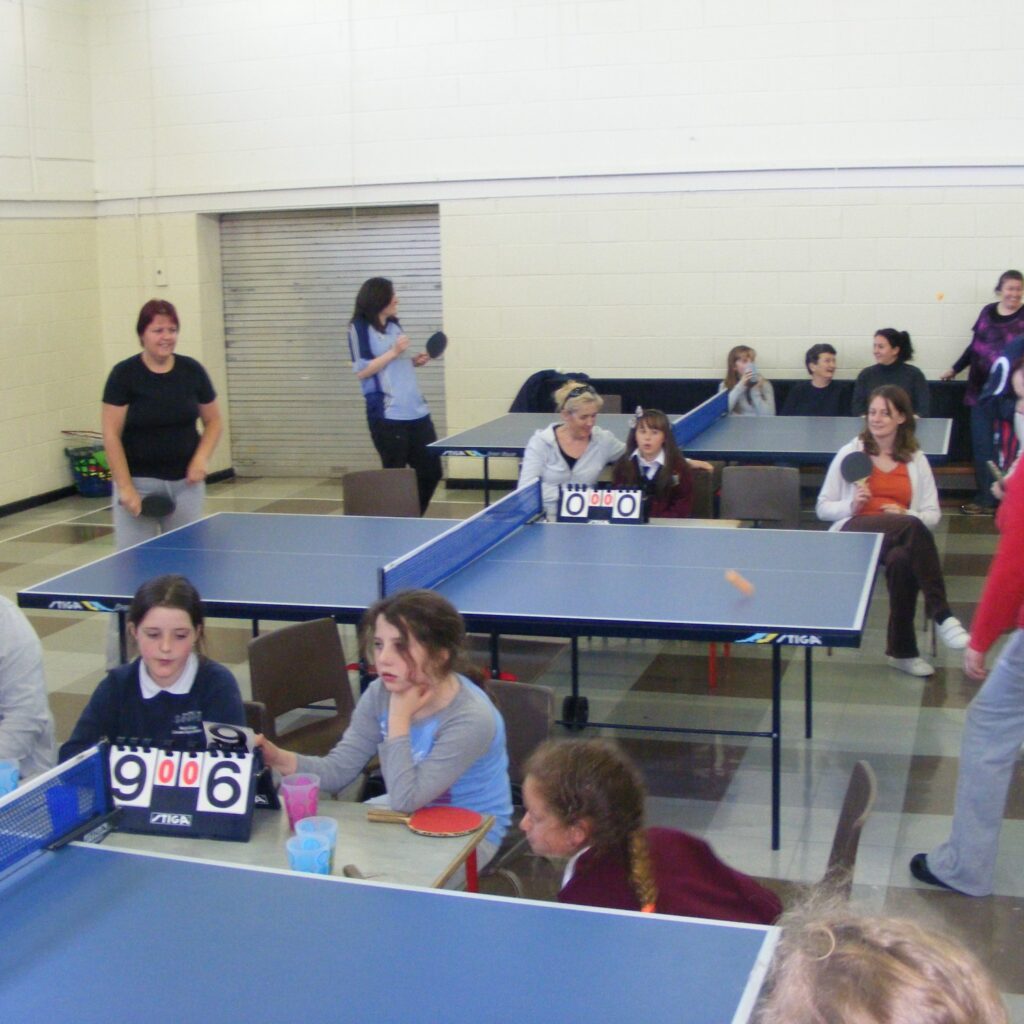 San Carlos NS on Captain's Hill, the home of Leixlip Table Tennis Club, was the venue for Tuesday night's "Women's Only" session. More than 30 women and girls turned up for an evening of table tennis, fun and refreshments. One or two brave men stuck their heads around the door but were quickly told to come back on another night, that the girls were ruling the roost tonight!
A number of the younger girls play at the club on a weekly basis but last night was an opportunity to bring their Mums, Aunts and Grans along. Players were put into groups and allocated to tables where they played a series of single and doubles matches. The children played eachother, the mums played eachother and then the mums and daughters joined forces to play doubles against their opposite pair. Howls of laughter could be heard from all the tables as points were won and lost. The senior players with experience of playing table tennis were quickly spotted and were handicapped – some were asked to play a number of points with their weak hand and others were made to run to the surrounds and back before playing the next shot! This evened things up and served to creat a noisy, fun-filled atmosphere.
One lady said it was her first time playing table tennis. Her friend's children play in the club and she was asked to come along and give it a shot. "It's a really good work out. You wouldn't think it but you really do burn some calories moving around the table! It's great fun".
After the final matches were played and the presentations to the top four teams were made there was time for a game. The forfit was that the losers would clear away the tables at the end of the evening. The "youngsters" beat the Mums convincenly and went off to have tea and cake while the adults tidied up!
The evening would not have been possible but for the hard work of Pauline Harper and Michael Keogh. Not only did Pauline organise and promote the whole event but she baked delicious coffee cake and muffins for everyone to enjoy once the table tennis finished.
Leixlip Table Tennis Club will continue with their Tuesday night session (7pm-8pm for kids and 8pm-10pm for adults) throughout the summer. For more details contact [email protected]