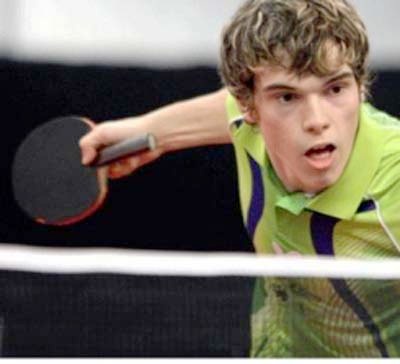 Irish Junior and Senior International player, Paul McCreery, has qualified to play in this week's ITTF World Under 18 Singles Championships 2010 in Bratislava, Slovakia. This is the first time an Irish player has qualified to compete in this prestigious event.
The Volkswagen sponsored Championships begin on Tuesday 7th December and invitations have been restricted to the top 96 junior players in the World. In addition to the World Singles event Paul has also been invited to play in the Mixed Doubles event.
"We are delighted that Paul has been invited o play in this elite level competition. This is a first for Irish table tennis," said ITTA Technical Director, John O'Donoghue "I know that it was one of Paul's big ambitions to play in this event and I am delighted that he has achieved this goal. He works hard at the game and is fully deserving of his success."
Paul, who is sponsored by Butterfly, plays for Montpellier in the French League. He jets off to Bratislava today, Monday 6th December with coach, Andrew Dennison where he will be playing against the world's best juniors in this high quality competition. We all wish him every success at the event.
McCreery has been drawn in the first round group with Hie Chung Chiu of Hong Kong and Boris Mihailovic of Serbia.