Some superb table tennis was on display at the recent Championships at Wayside TTC. In the Over 40s, Tibor Pofok overcame Philip Wallace in the group stage. This upset heralded a quarter final meeting between Philip and Ormeau clubmate Daryl Strong. An engaging five setter saw Daryl emerge on a scoreline of 5,-8,-7,6,7. Subsequently, Dave Pemberton ousted Tibor in five sets also. Leading 2-1, but 5-9 down in the fourth in his semi-final against Daryl, Rory Scott displayed great defensive skills and a really aggressive forehand to set up match point at 10-9. With a long, wily rally from the back stanchion, Daryl weathered the storm, and ultimately went on to win the match 8,-8,-9,10,3. Rory was very disappointed with his strangely subdued form in the final set. Daryl emerged as champion beating Dave Pemberton 3-0 in the final to retain the Harry O'Prey Trophy.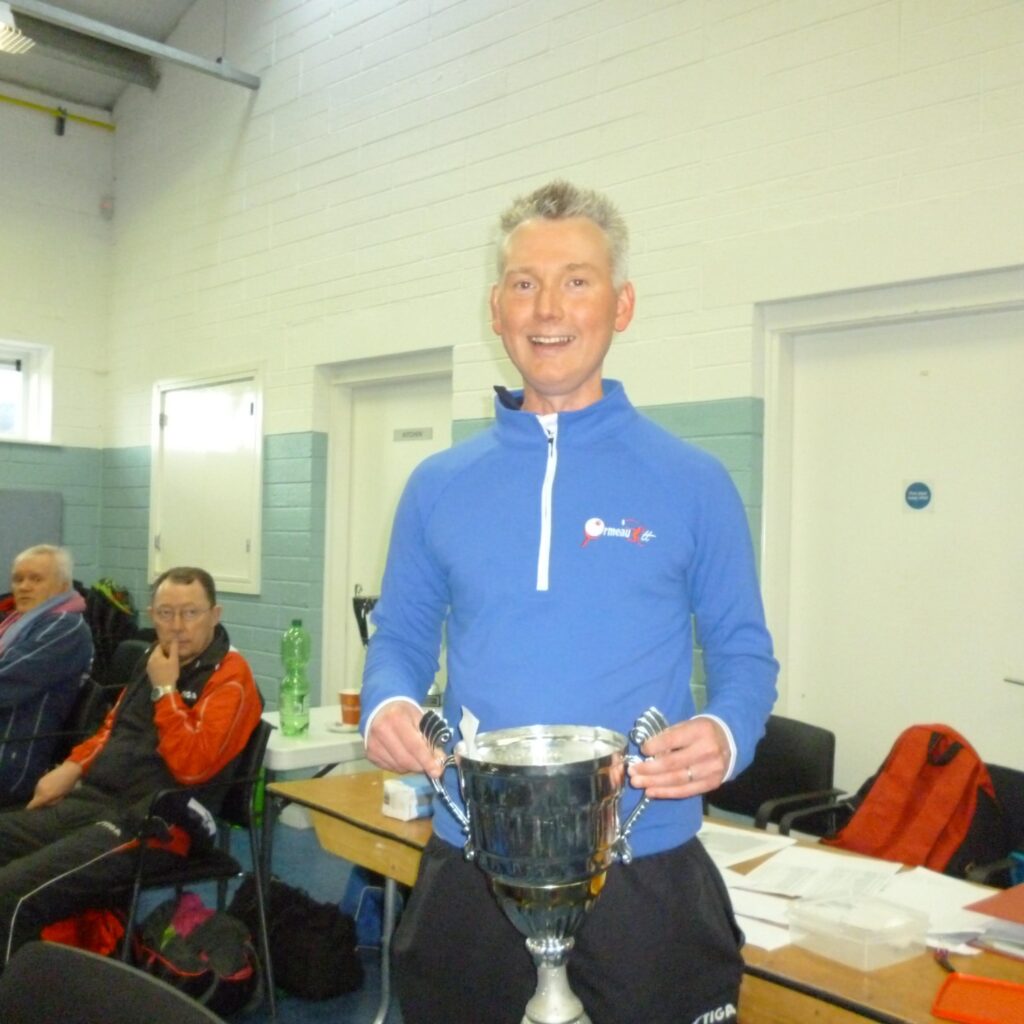 Former champion Jean Wyse made a welcome return to compete for the Luke Murray Perpetual Trophy along with seven other contestants. The round robin format produce unexpected results, with all contestants losing at least one match each. Paula O'Neill scored a great win over Ger, -7,-5,10,15,9. Paula also lost narrowly to Gillian in the fifth. Jean beat Ger 4,9,11. Annemarie lost to Ger 0-3. However, her 3-1 win over Jean was the critical result, which meant Annemarie won the title. This was a very good competition enjoyed by all of the contestants. "The trip from Ennis was well worth it! Happy that I came" was Jean's verdict.
Match of the day was the final of the 50s with Pat McCloughan and Dave Pemberton vying for the David Addy Trophy. An absorbing topspin duel, with both players covering the court, left nothing to choose between them, and a fifth set was always on the cards. Trailing 1-4, Dave levelled at 5 all,…"Time out". On Dave's serve, Pat won tight exchanges at the net to lead 7-5. Dave levelled again at 9-9. Pat hit a superb backhand return winner off Dave's serve. Dave saved the match point, and emerged victorious on a scoreline -9,11,-9,13,11. Another colossal match between these rivals!
Maestro Tommy Caffrey prevailed in both the 60s and 70s events. However, he had to withstand a tremendous challenge from Philip Shaw in the 60s final. Reading the spin well, Philip killed some fabulous winners on both wings to win the first 11-7. Tommy made some subtle tactical changes and some tremendous returns to frustrate Philip subsequently. The fifth set opened in a concentrated, cautious fashion, both players reluctant to force matters. At 5-5, Philip became a little impatient or perhaps determined to force the issue. However, he failed to breach the "wall" which Tommy constructed, lost his focus somewhat, and played some loose shots. Tommy won on a scoreline of -7,7,-6,5,7. "I've learned a lot from that particular match! First time in a final against Tommy" was Philip's assessment. In the 70s, Tommy beat old rival Martin Pickles in four sets at the end of a long day.
Congratulations to all of the victors. Our thanks to members of Wayside TTC, treasurer Sharon, referee Dave, and all who helped set up the hall and umpire matches during the event.
Best wishes to all of our members who are coping with illness at this time.
Please see for full results from the event here