The Masters tournament saw a return to the Glenburn venue in Belfast after an absence of a number of years. Many players expressed an appreciation of the excellent playing conditions and facilities available at the venue.
The Ladies event featured a Round Robin of five players, and Geraldine Greene was a very worthy winner, winning all her matches. The second place in the group was closely contested, with Anne Marie Nugent, Gillian Richardson and Ikuko McMahon all winning two matches each. On countback, Anne Marie gained the second position, with Ikuko third and Gillian Fourth.
The 40's groups saw some very good matches and in the knockout stages, Rory Scott had a very close encounter with Dave Butler and only won by 3-2. Phil Wallace then played Rory, and Phil overcame the long pimples master, to progress to the final against his Ormeau team mate and friend, Daryl Strong. Daryl in reaching the final, had overcome Tibor Pofók in the previous round. The final between the two Ormeau contenders was very close. At one stage it looked as if Phil would pull off a famous victory when he was 9-4 up in the 5th and final game. Daryl, however, drew on all his experience and triumphed in the end by 12-10.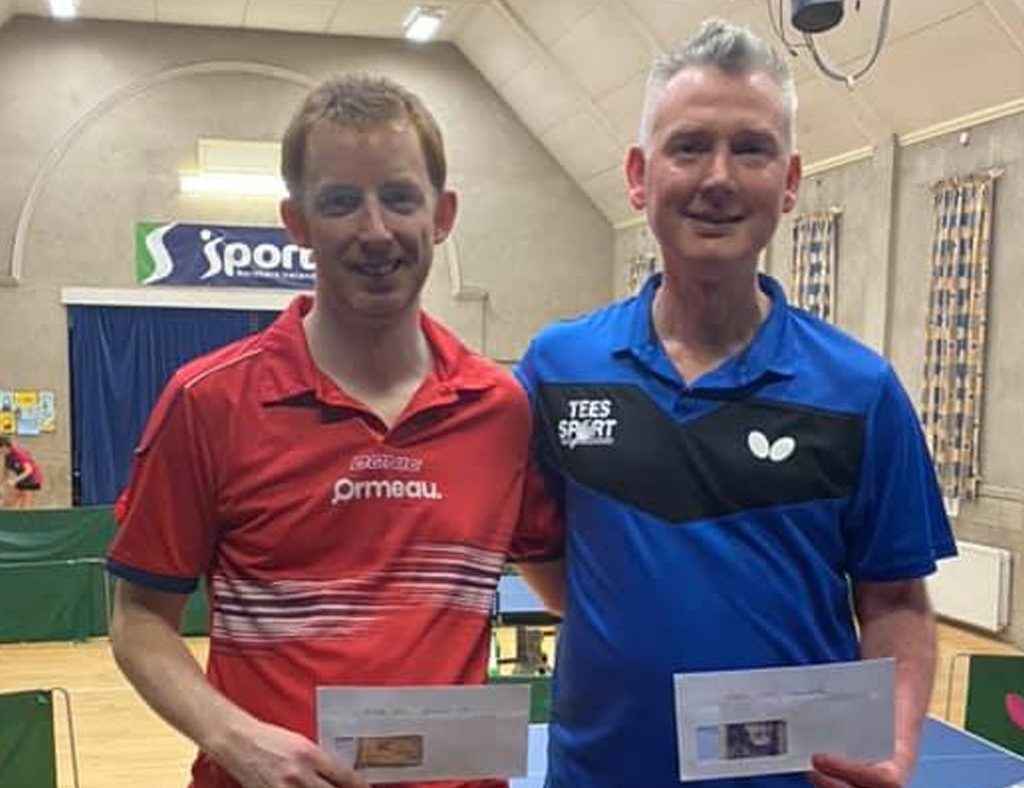 The 50's saw some good wins by Paul Gallagher and also by Willie Cherry, who was playing in his first Masters tournament of the season. Kieran Murphy was also playing in his first tournament for a long time, but did not progress past the group stage. Willie had a very good win against Kevin Mackey in the semi final and Paul also reached the semi final by winning 3-0 against Norman Nabney. Paul then lost to Pat McCloughan 3-0. The final was an excellent match between Pat and Willie, and on this occasion Pat was the worthy winner.
The 60's event also featured some very good matches. In the first round of the knockout, Barry Dickson progressed in four close games against Albert Coulter. Norman Nabney had a close match with Branislav Jakovetic and reached the semi final by winning 3-2. In the other half of the draw, Kariem Sabir played well to win against Finn, and Martin Pickles also played well to overcome Dickson. In the semi finals, Tommy Caffrey had a comfortable win against Norman, and Kariem progressed in four games against Martin. In the final, Kariem played a steady, controlled game and triumphed against Tommy by 3-1.
In the 70's, there were good wins for David Jacobson in the group stages. Tommy made up for his disappointments in the 60's, by playing well throughout and progressed through to the semi final without too many problems. Ken Peare had a good win over David, and Oliver Adamson played well to also reach the semi final stages. Oliver then met Martin Pickles, and lost 3-1 and Ken lost to Tommy by 3-0. In the final, Tommy showed what a good competitor he is. Having lost the first game to Martin, Tommy drew on his vast experience, changed to a more controlled aggressive game and went on to win on a scoreline of -10, 5,3,5.
Our thanks go to Glenburn table tennis club and the people who made the tournament possible. These include Herbie and Neil, who were at the top table throughout, Norman, Willie, Martin and Brian.
Please click HERE to download the results