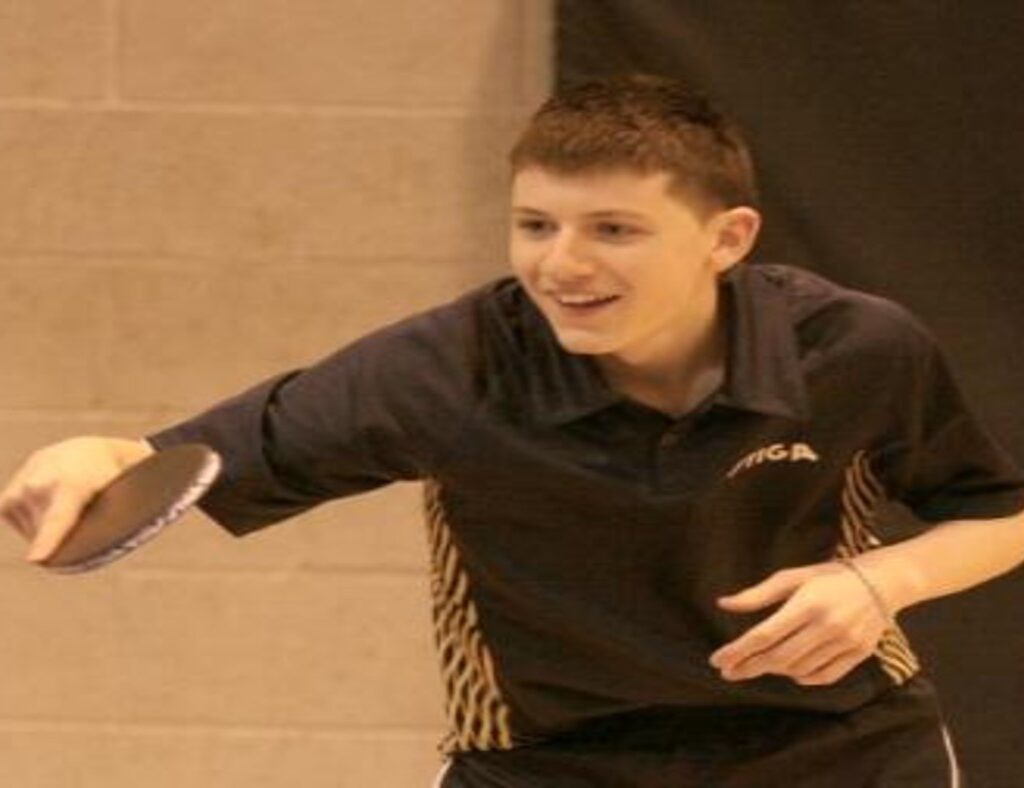 Some of Ireland's top men's players are currently competing at the Luxembourg Open, with some good results recorded so far.
Day 1
In the Team Event, Ireland 1(Paul McCreery and John Murphy) were defeated 3-0 by Ukraine before facing Austria. This match proved to be a classic battle, as Austria raced into a 2-0 lead. However, the finalists of the 2010 Butterfly National Senior Championships fought back in the Doubles before McCreery levelled the match with an outstanding 5-set victory over Dominique Plattner who is ranked over 400 places ahead of Ireland's No.1 in the World Rankings. This led to a winner-takes all showdown between the experienced Murphy and Austrian Storf – this match also went the distance, with Murphy unlucky to lose out by 13-11 in the final set.
Ireland 2 is made up of Ashley Robinson and Sam Logue – both of whom are still eligible Juniors. This tournament was always going to be a daunting task for the duo, their highlight to date being a superb Doubles victory over England's McNeath and Nicholls.
The singles competition gets underway today where the Irish contingent will be looking to score some positive results – the draw is as follows:
McCreery v AARAS PAL Francis (Norway) World Ranked 982
Murphy v SOTA Rei (Albania) – Not Ranked
Robinson v TAUBER Michael (Israel) – World Ranked 818
Logue v Filenko (Ukraine) – World Ranked 496
Murphy and McCreery have both got good draws against lower ranked opponents and will fancy their chances to progress – Robinson and Logue will have to produce stunning performances to shock their opponents. Results will appear on ITTAWeb as soon as they are received.
Day 2
The Irish got off to a great start in the Men's Singles, with Murphy and McCreery both scoring good wins in the 1st Round over their lower ranked opponents. McCreery then really turned on the style in the 2nd Round as he blitzed England's David McBeath in straight sets – McBeath is 300 or so places above the Irish No.1 in the World Rankings, so another scalp to add to that of Austrian Plattner. Murphy also progressed to Round 3, but in more dramatic circumstances, taking a 7 set classic against Sweden's Sven Hansen. Both players eventually crashed out of the main draw in Round 3, with England's Gavin Evans too strong for Murphy in a straight sets win and Nichola Moller of Switzerland eliminating McCreery. For youngsters Robinson and Logue, this tournament has been a difficult experience and they have struggled to record a victory against established senior internationals – hopefully this experience will stand to them as they develop as International players.
Day 2 Results in Full
McCreery v AARAS PAL Francis (Norway) WR 982 Won 4-2
McCreery v David McBeath(England) WR 689 Won 4-0
McCreery v Nichola Mohler(Switzerland) WR412 Lost 4-1
McCreery v Boris de Vries (Netherlands) WR636 Lost 4-2
McCreery v Jan Thews(Lux) WR1138 Lost 4-0
Murphy v SOTA Rei (Albania) Not Ranked Won 4-0
John Murphy v Sven Hansen WR963 Win 4-3
Murphy v Gavin Evans(England) WR458 Lost 4-0
Murphy v Valeriy Rakov(Ukr) Not Ranked Lost 4-2
Murphy v Endika Diez(Spa) WR445 Lost 4-1
Ashley Robinson v TAUBER Michael (Israel) – WR818 Lost 4-2
Ashley Robinson v Christian Kill(Lux) WR733 Lost 4-2
Rob v Mike Bast(Lux) WR588 Lost 4-0
Lars Ronneborg(Nor) WR1267 Lost 4-0
Logue v Filenko (Ukraine) WR 496 Lost 4-0
Logue v Simon Arvidsson(Sweden) WR425 Lost 4-0
Logue v Casper Ter Luun(Netherlands) WR 619 Lost 4-0
Logue v AARAS PAL Francis (Norway) WR 982 Lost 4-0
Lost 4-0