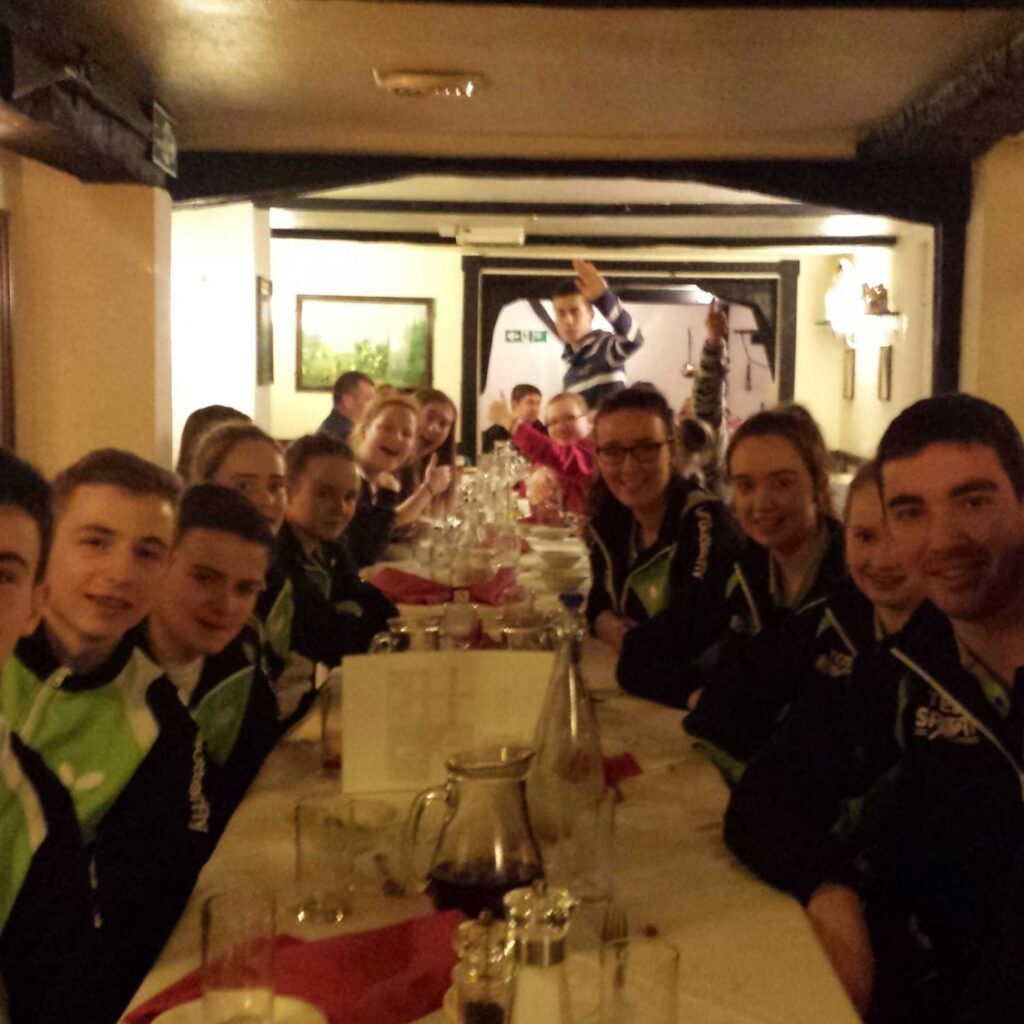 Team Events
Cadet Boys ( Evin Mc Govern, Alexander Gillen )
The boys finished in 4th place overall beating Isle of Man 5-0 and Guernsey 4-1. In the other matches the boys were unlucky going down 3-2 against both Wales and Scotland before losing out 3-1 to eventual winners England 3-1 where Gillen picked up a good win over Hugo Pang.
Cadet Girls ( Katie Mc Glone, Rebecca Finn )
The girls finished with a silver medal overall with 5-0 wins over Scotland A and B, Wales and Guernsey. This left a final match with England for gold. Our girls had prepared well but in what can only be described as a strange match they lost out 3-0 having lead 2-0 in two of the rubbers. Silver medal for the girls was still good performance.
Junior Boys ( Tom Davis, Ryan Farrell )
The Boys finished with a bronze medal overall with 5-0 wins over Isle of Man and Guernsey and a 4-1 win over Scotland. It was here where the tournament got very interesting. Our boys had a 2-0 lead against Wales only to lose out 3-2 to the dismay of Irish coach Mark O Flynn. England who also had their own battle with Wales winning 3-2 left our boys knowing any win against England would give them a chance of gold. Ryan Lead the team with wins over Patel and a doubles win with Tom left the Irish with a 2-1 lead. Lawrence beat Ryan 3-0 to leave Tom playing for the match. In a match that had everything Tom himself saving six match points in the 4th ( 2-1 10-4 ) to win 12-10. The 5th could have went either way and Tom who left everything on the table went down 11-7. Top effort from the boys who will gain a lot form this experience.
Junior Girls ( Chloe O Halloran, Hannah Lynch Dawson, Emma Ludlow )
The Girls finished with a silver medal overall with 5-0 wins over Guernsey A and B, Wales and 4-1 win over Scotland. This left our girls in a final match with England for gold. The girls lost out to England 5-0 but will feel that another day they would be capable of more. A silver is still a very good result for our talented Junior Girls squad.
Singles Event
After a very good team meeting with all coaches and players on Saturday evening I felt all our players had chances of medals in the singles. As Sunday morning groups were underway I felt that there was a new air of confidence among our squad lead from new Senior International Ryan Farrell. 8 out of our 9 players progressed to the knockout stage with only Tom Davis falling short who was unlucky with the draw. I must note that it was maybe Toms fighting performance on Saturday evening that inspired our players for the battle in the singles.
Singles Knockout
Cadet Boys
Alex Gillen had a good 3-win over Jac Jenkins in the last 8 before going down not without his chances against European Number 9 cadet Tom Jarvis in the semi. Evin Mc Govern won 3-0 against Josh Stacey in last 16 before going down to Morrison of Scotland 3-1 in the last 8.
Cadet Girls
Both Rebecca and Katie came to the hall on Sunday with some unfinished business. In the last 8 Rebecca beat John of Wales 3-1 and Katie beat Plastow of Scotland 3-0. This left the girls with revenge matches against the girls they had lost to on the Saturday evening. Katie was first to book her place in the final with a confident 3-0 win over Kate Cheer. Rebecca who played her match of the tournament beat Payet 3-2 11-9 in the 5th to book her place in the final. In the final the level was really high with Katie winning 3-1 to be crowned Six Nations Champion. A great performance from both our girls.
Junior Boys
Ryan Farrell beat Blair Fowler 3-0 in the last 8. In the last 4 is where Ryan really showed the level that he is playing at the moment with a fantastic 3-0 win over Lawrence of England. In the final Ryan started slow but fought hard to get into it but it wasn't to be as he went down 3-0 to Ryan Olyer of Wales. He will feel that the win maybe slipped away but will surely take a lot of confidence from this performance.
Junior Girls
In the last 8 Hannah and Chloe meet and in what was always going to be a tight match Hannah won out in the end 3-1. Emma who was on the other side of the draw lost out to Lucy Elliott of Scotland 3-1. In The last 4 Hannah lost out in 3 sets to Tsaptsionos of England.
Summary
This was a very good performance from our team winning 3 team and 5 individual medals. The players are professional both on and off the table and I believe that this squad will only improve with time. Personally I think none of this would have been possible without the coaches Claire Nelson and Mark O Flynn who really believe in the players and worked very hard over the weekend to ensure that the players had every chance to perform to their best. Overall a great team performance from the players to the coaches.
John Murphy
18th March 2014