By Norman Nabney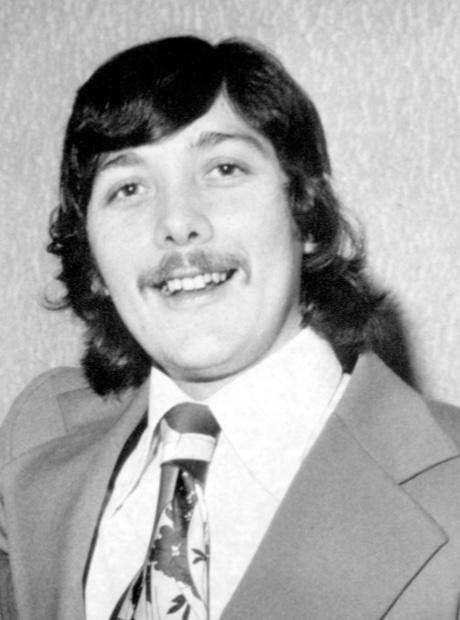 INTRODUCTION
As long as table tennis is played in Ireland there will be argument over who was Ireland's best male player. Some would say Tommy Caffrey, winner of 2 Irish Opens, and still playing to a high standard in his 70s. Others would favour Colum Slevin, who left this island to play successfully as a professional in Germany and became European over 40s champion. But for excitement, flamboyance, showmanship, and flair, there can only be one winner – Jim Langan.
BEGINNINGS
Jim started in summer 1961 when his dad set up a table at home, and played with his friend Dara Melinn. He played at Butlin's Mosney the following summer and joined Crofton in September 1962, where his first coaches were Ken O'Riordan and Peadar Wiley. He also struck up a lifetime friendship with Mick Gibney. 
EARLY SUCCESS
1963 was Jim's breakthrough year. He partnered the previous "boy wonder" Tommy Caffrey to become Irish National doubles champion in March, and was taken to the English Open for experience. He became Crofton Club champion in April, and beat Tommy for the first time in October to win the East of Ireland.
In November he beat English No.6 Bobby Stevens in the Bangor Open, and took 3 titles at the Leinster Open, men's singles and both doubles events. The year ended with a bang when at the age of 15 he won all 4 available titles in the Irish Closed, earning a standing ovation, and was capped by Ireland.
OVERALL VIEW
Jim played at the top of Irish table tennis for 15 years, and the only player who came close to him was Tommy, who very generously said after beating Jim in 1974 "By now I know Jim's game so well I always have a chance. But when it comes to playing continentals he's so much better."
It would be impossible to list all of Jim's successes in this tribute, but I'll attempt to give some indication of his triumphs (and the occasional failure). One fact of which he was immensely proud was that his brothers Brian and Tony also played for Leinster, with Tony achieving selection for Ireland.
STYLE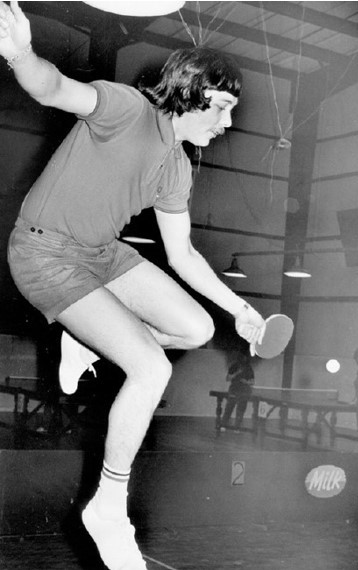 Jim was left-handed, he was not totally orthodox but incredibly effective. His "go to" shot was a fast backhand sidespin push, difficult for an opponent to control, and he would then follow it up with a forehand topspin which also had sidespin, or an angled backhand block/drive. When he beat English international Tony Clayton comfortably in 1974 the ETTA magazine writer made the comment "Langan's great skill at angling the ball gave him a fairly easy victory".
IRISH CLOSED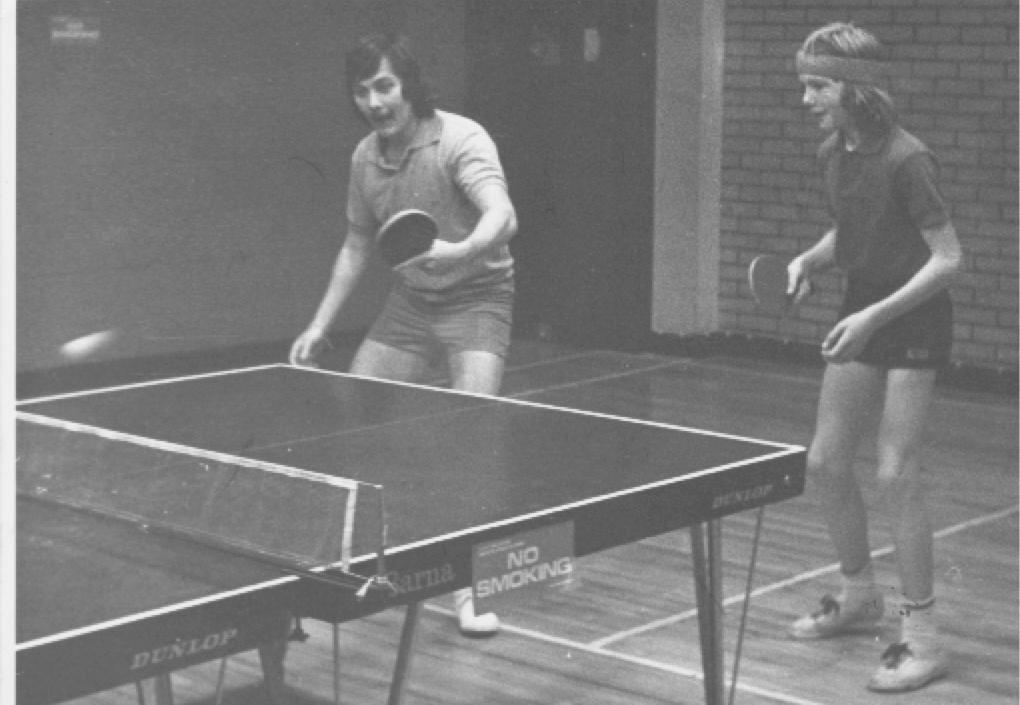 Jim was our National singles champion on 7 occasions – 1963, 66, 68, 69, 70, 71, and 76. He won the men's doubles 6 times and the mixed 7, both with a variety of partners, and was boys' winner twice. The last time he played was in 1981, when he lost in the quarter-final to the "New Pretender" Colum Slevin.
IRISH OPEN
This was a perennial source of disappointment to Jim. In 15 years he played in 13 "Opens" He won some terrific matches, was runner-up in the singles 3 times and losing semi-finalist 5 times, won the boys' 3 times, the doubles 3 times, and the mixed 4 times.
In 1966 he had the final "won" against Stuart Gibbs, led 2-0 and 13-4, then 15-6 in the fourth, at 20-18 he missed a "gimme" forehand, and even led 13-7 in the fifth.
In 1967 Tommy beat him 3-1.
1969 was his last final, he beat the Czech European No.6 Jaraslov Stanek in the semi-final, then lost in the final to Stanek's team-mate Stefan Kollarovits.
In 1976 after losing another semi, he said "If I could treat it like any other tournament I'm sure I could win it. But it's the Irish Open and I don't think I'm meant to win it." Sadly he was proved right.
PROVINCIAL OPENS
Jim reaped a rich harvest in all 4 Opens, unfortunately results from Connacht and Munster in the 1960s are difficult to access and these results may be incomplete.
In his "home" event, Leinster, he won the men's singles 7 times, the men's doubles 7 times, and the mixed 3 times.
He won the Ulster Open men's twice, the boys' twice, the men's doubles 7 times, and the mixed 3 times.
He was 3 times Connacht singles winner, men's doubles twice, and mixed once.
He was 5 times Munster men's champion, men's and mixed doubles winner 3 times, and the boys' winner once.
A story from Munster 1966 has gone down in folklore. Jim and a friend had shaved their heads as a protest against a recent budget and had been photographed in several newspapers. In the Munster semi Jim was playing English No.3 Brian Wright, he played the first game covering his head with a teacosy, lost that game, came out for the second game without teacosy and with bald pate exposed, and promptly won the next 2 games! He then beat Tommy in the final, after Tommy had beaten English No.1 Chester Barnes – this was one of Ireland's finest nights.
OTHER OPENS
An early triumph for Jim was in the boys' events at the 1965 ENGLISH OPEN. He won singles and doubles, his "victim" in the singles was Stuart Gibbs, who was also his partner in the doubles. 2 years later he reached the last 8 of this prestigious event, beating Chester Barnes en route, and commenting afterwards – "When it was 20-18 in the third and I was serving, I winked at him, said 'cheese', and he chopped the ball in to the net." Typical Jim.
Outside of the events mentioned earlier, the 2 biggest Irish tournaments were the BANGOR and CO. ANTRIM (Ballymena) Opens. Players from all over UK and Continental Europe came to these weekends, so a title was eagerly sought and difficult to attain. At Bangor Jim won 3 singles and 2 of each of the doubles, while at Ballymena he won 2 of each of the 3 events.
In 1967 he won in Ballymena with wins over Connie Warren and the No.1 Scot Malcolm Sugden; the same year he beat 3 English internationals to become the first Irishman to win Bangor – Roy Morley, Roger Chandler, and Mike Symonds.
He retained his Bangor title in 1968, again beating 3 internationals – Mike Johns, Connie Warren, and Les Haslam, 2 of whom had beaten him in an international match earlier that week. His matches with Warren were always "spicy". However bad-tempered their matches were, they were friends when not in direct opposition – when Connie came to Ireland he stayed with Jim, they sometimes played doubles together, and Jim even coached him in an Ulster Open.
Jim's 3rd Bangor win came in 1971, he beat yet another English international Nicky Jarvis in a fantastic match, before disposing of Irish team-mate Cliff Thompson – Cliff had put out English visitors Brian Burn and Eric Coster but was no match for Jim.
His second Ballymena title was in 1973 when he again beat Cliff, who had defeated Tommy's conqueror Stephen Tracey.
Amongst the many other titles Jim won, frequently more than once, were the East of Ireland, South Co. Dublin, Armagh. Lurgan, Co. Dublin, Co. Down, Butlin's, and Gamble Simms.
That last was a one-off held in Lisburn in 1975, and a far-from-fluent Jim struggled to make the final, where he met Scottish No.1 Richard Yule. The flamboyance appeared then, Jim won deuce in the third, he danced and shouted his way to victory, and at one stage a clearly frustrated Yule asked no-one in particular "How do you beat a mad Irishman like that?"
INTERPROS
When you've played internationally on the biggest stages, it is inevitable that Interpros will not be high on the list of priorities. However, Jim played in 11 series until 1978, Leinster won 8 titles, and in approximately 80 matches he lost just 1, a doubles with Dara against Jack Cash and Carroll McBride.
INTERNATIONAL SUCCESSES
After the 1968 Quadrangular series in Belfast the English NPC Ron Craydon said that if Jim was playing in England he would be ranked in the top 4. Given that the top 4 then were Barnes, Neale, Warren, and Harrison this was high praise.
Jim beat every English No.1 of his era, including Chester Barnes, Denis Neale, Ian Harrison, Desmond Douglas, Nicky Jarvis, and Bryan Merritt, former World champion Johnny Leach, the 2 top Scots Malcolm Sugden and Richard Yule, and almost every English international who crossed his path.
Further afield, Jim defeated Jaroslav Stanek twice in a week in 1969, and Hungarian Maxyas Beleznai in 1968, another European No.6.
In the "friendship" match of 1971 Jim beat China's future world champion Xi en-Ting (world No.6), in an international in Galway he defeated the Czech No.1 Pavel Ovarcik, and when Japan came to Dublin in 1973 he beat Masahiko Oya.
He had numerous wins in European League and major championships against lesser-known players who would have been expected to beat him, and more than any other player he was responsible for Ireland's high standing at European and World level.
MAJOR CHAMPIONSHIPS
Jim only played in 2 World and 5 European Championships. However, some of his statistics were utterly amazing, while on occasions it was "so near and yet so far".
In Stockholm at the Worlds in 1967 Jim won 14 of 22 matches in the team event. He and Tommy reached the last 16 of the doubles, among their victims were the legendary American pair of Marty Reisman and Erwin Klein, 19 in the fifth. Tempers flared, when Tommy was about to serve Jim said "Give him the one he doesn't like", to which Reisman responded to Tommy "How do you like this guy?" Jim lost early in the singles to a Japanese, Yoshida, 15 in the fifth, after trying his own brand of gamesmanship, hissing after each point! NPC Joe Veselsky said some of the play was the most spectacular he had ever seen.
The Europeans in 1968 in Lyon proved to be Jim's peak in the team event. We finished 17th, Jim won an incredible 17 out of 18 matches. All 3 of the Irish men suffered cruel draws in the singles 1st round – Tommy lost to twice European Champion Hans Alser, Cliff to future World Champion Istvan Jonyer, and Jim 3-2 to world No.9 Vladimir Miko.
The 1969 Worlds in Munich propelled Ireland to unprecedented heights. North Korea and Romania withdrew, too late for a re-draw, both were in our group which we then won; this put us in the top 12. We had no wins in the top section but to finish 12th was superb; Jim won 10 of 19 matches.
The real drama was in the singles, where Jim played future World champion, Japan's Mitsuru Kohno. He led 10-6 in the fifth, women's NPC Colin Senior described it as a fabulous match but that Jim's play over the last few points was the only time he had known him to falter mentally, as Kohno won 21-16. Jim said afterwards that figuratively he had "seen the money". So near to glory…..
And of course there has to be a "Jim story". As reported in the Irish Independent obituary the men's final was a complete sellout, local hero Ebby Scholer was in the final (he lost 3-2 to Shigeo Ito), fans were clamouring to get in, Jim devised a system whereby he exchanged his player's pass for Deutschmarks through a window, the pass was returned to him, but eventually he was discovered!
Jim played in 3 further Europeans. The highlight was in 1972, when, after a relatively mediocre team event, he beat one of the Swedish team gold medallists in the singles and reached the last 32. In 1976 he won 16 of his 20 matches in the team competition. Finally in 1978 he won 16 and lost 9.
EUROPEAN LEAGUE
Some of Jim's finest results came in the ultra-competitive European League, in which he played between 1969 and 1978. Jim was ably backed up in most matches by Tommy and Karen, and without doubt Ireland "punched above our weight"; for most of that time we were in Europe's second tier. At one stage he and Tommy won the men's doubles in 12 consecutive matches, he and Karen won 10 out of 11; he loved the tactical play involved in doubles.
Inevitably there were arguments during some tense matches. Against Greece in 1972 in Portadown his opponent complained of injury/cramp, lay down on the floor, and called for a doctor. Jim laid a towel out on the floor for him! Our NPC tried to claim the match, the Greek recovered miraculously, Jim's concentration was gone, he lost the match from a winning position, and we lost 4-3.
In 1976 in an away match against the Dutch, he completely lost his head. He complained about loud hooters during the doubles, no action was taken, he deliberately smashed several balls off the table, stood on a ball, and refused to play the mixed or his second singles. Later ITTA apologised.
In 1978 in Craigavon, again involving the Dutch though they were innocent parties, he and Kevin Keane refused to play because the Council had a Union Jack prominently flying, which was against European TT rules. Eventually a compromise was agreed whereby the flag was not visible inside the hall. Karen's attitude? "I'm not here for a holiday, I'm playing anyway!"
The home matches were played in packed halls all over Ireland – Dublin, Belfast, Galway, Limerick. and several other Ulster venues. Jim rarely disappointed. 2 highlights of many below –
Dublin 1969 – we beat the Dutch 4-3, 2 wins for Jim, 1 for Tommy, and a men's doubles where Belfast Telegraph reported that Jim played 3 shots which turned near-certain defeat in to victory.
Dublin 1970 – Ireland 4 Denmark 3. Jim's form had been indifferent, a few weeks earlier he had lost in Portadown to Ulster player Wallace Forde. In Dublin he lost to the Danish No.2, but then turned the match around by beating the No.1 after trailing 11-14 in the third. Pedersen said "I didn't think I could lose but I should know better than to be confident against Langan."
CHINA 1971 AND JAPAN 1973
Much has been written about the visit of the team from the People's Republic of China to the National Stadium, Dublin, this drew the largest number of spectators ever to a table tennis event in Ireland, and, true to form, Jim played a full part. Incredibly he beat a future World singles champion, Xi en-Ting, in straight games, 21-19. 21-15.
16 months later it was the turn of the Japanese who played at Fitzwilliam Tennis Club, Dublin, and Antrim Forum. Jim had wins each night, singles in Dublin 21-17. 21-17 against Masahiko Oya, then he and Tommy beat Oya and Tokio Tasaka 22-20,23-21; and in Antrim he and English guest Denis Neale beat Oya and Maysayuki Kuse 21-16, 21-9.
TEAM-MATES' COMMENTS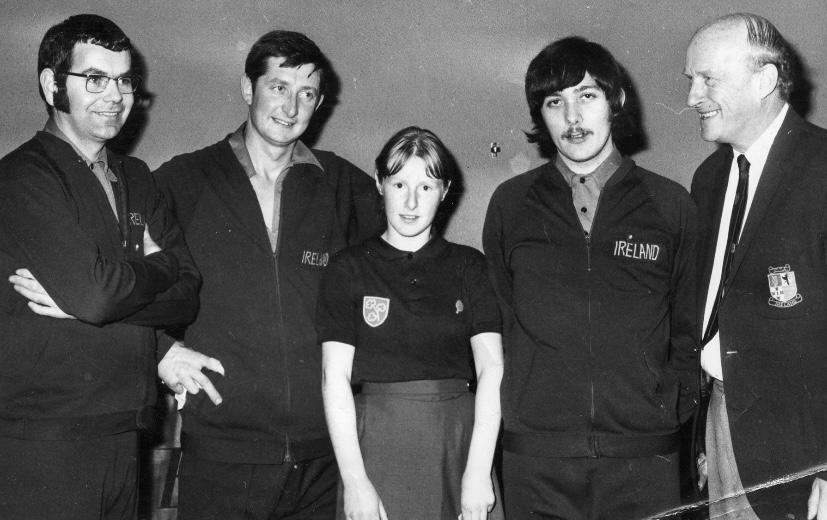 Jim's 2 most regular team-mates were Tommy and Karen, and at the end he partnered Colum.
TOMMY – Jim was a tremendous doubles player. He would step in at every opportunity, whether with his aggressive backhand push shot or his powerful loop. He was brave beyond belief.
KAREN – We won most of our matches in the European League, he didn't complicate things for me by being too tactical; he created loads of opportunities for me with his sidespin push. He was a very supportive team-mate.
We had fun too – we were playing a very good Chinese pair in the English Open, they were making hand signals below the table to show the type of service which was coming – back in the 70s that was unusual. Jim started giving me hand signals too, except that his were meaningless and just made up! I could hardly play for laughing at his antics.
He was the leader of the pack, very sociable, and no-one who heard his version of the Rolling Stones song Satisfaction at a post-tournament party will ever forget it.
COLUM – Jim was a very intense competitor, focused on winning every point. Every stroke was played with a purpose within a tactical framework. In one of my early European League matches against Italy he explained to me exactly how he wanted me to play. Helped by his use of angles and spin we surprisingly won 21-19 in the third.
FINALLY – AND LEGACY
Jim retired in 1979, he played intermittently after that and finished totally in 1981. Not for Jim the Veterans' "circuit" which has given many of us pleasure in our later years. There would have been no fun, no fulfilment for him in that.
He had business interests, primarily a furniture business in Capel Street. He promoted a snooker match between the game's 2 players with whom he had most in common, Alex Higgins and Jimmy White, at the National Stadium – where else? He also became Irish Open champion twice, unfortunately not at table tennis, but rather at poker, and played in major tournaments in Las Vegas.
Jim's life came to a sudden end in July 2003, when he died from a heart attack at the age of 54. He had been quoted as saying that he didn't expect to live past 40, so he outlived his expectations considerably. He had lived a full life, and he left us with so many memories. Memories of extravagant "impossible" shots, memories of matches where he had snatched victory from near-certain defeat. But there are as many memories off the table as on it, he was undoubtedly the biggest, most colourful, charismatic character Irish table tennis has ever seen – he was to table tennis what his hero George Best was to football.
Was he our greatest? Comparisons are unfair between different eras so there is no definitive answer to that question, but he was certainly the most entertaining.
Could he have been even better? In 1969 the Czech coach told him if he moved to mainland Europe he would be top 10 in Europe within a year. When Jim heard what that would involve – a daily regime of training, gym work, practising, andmatches, he politely said no thanks. Actually his response was probably more colourful than that! He was content to stay in Ireland, he had no ambition to be permanently on the world stage, and we are the richer for having seen and experienced his genius at close quarters for so long.
NORMAN NABNEY