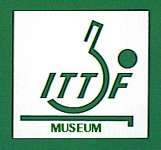 The new ITTF Museum Newsletter, 1 March edition, is now available at this link:
This is a webpage, so no download is needed. You can also view any previous Newsletter via the Museum website: www.ittf.com/museum
Just click on the Newsletter icon and select an issue.
The Museum Newsletter is published every two months as part of my Communications Program, giving updates on recent activities, VIP visitors, new acquisitions & donations.
Also check out our latest magazine, a free 24-page quarterly publication available as a pdf download in full color. You can select any issue at:
http://www.ittf.com/museum/TTC.html
Hope you enjoy the new issue. Feedback or corrections always welcome.