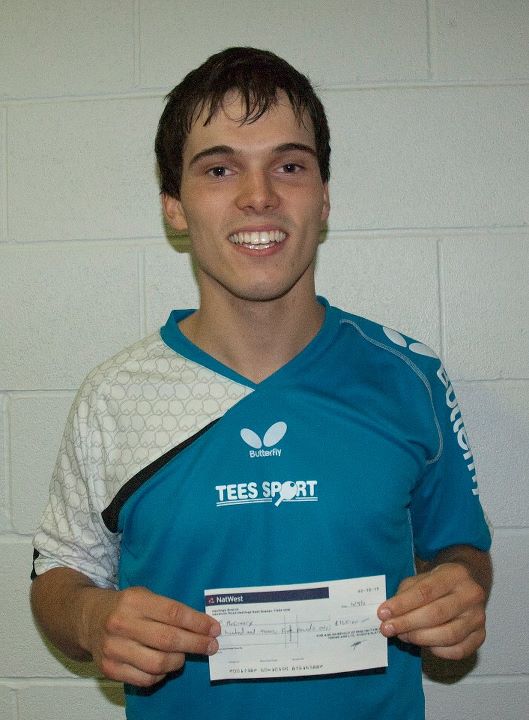 Photo – Paul McCreery(with thanks to ETTA Facebook)
Bristol Grand Prix – Results
A number of Irish international were in action last weekend at the Bristol Grand Prix. Some great results, including a great win by Paul McCreery over Great Britain Olympic hopeful Darius Knight. Some highlighted results below;
MEN'S SINGLES
Paul McCreery beat Darius Knight 3-1 in the semi-final. English International Knight is on the British Long List for the London 2012 Olympics. McCreery lost in the Final to Gavin Rumgay of Scotland, also on the Long List for 2012. Paul lost 3-1, but had a chance to draw level at 2-2 when he led 10-8 in 4th set before losing.
Ashley Robinson lost to Darius Knight 3-1 in 2nd round, while Gavin Maguire lost in the last 32.
BAND 1
McCreery justified his number 1 seeding in the Men's Band 1 Singles by making the title his. En route to the final Paul saw off Tomasz Rzeszotko and Ryan Owen. Lining up alongside him was Garth Kinlocke, he took out Ashley Robinson 3-1 and Victor Guang Shi 3-0. The final match of the day started well for Paul with an 11-6 first set win, and looked like one way traffic with him 8-2 in the second set, but Garth had other ideas. He pulled back to take the second end 14-12, Paul managed to make that second set just a blip taking the next two games 11-7 to claim the title.
Gavin Maguire lost in the Quarter Final to Ryan Owen of Wales.
UNDER 21
Ashley Robinson beat Garth Kinloch in Q/F, and lost to Matt Ware in S/F