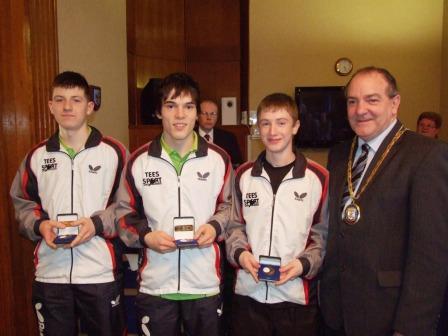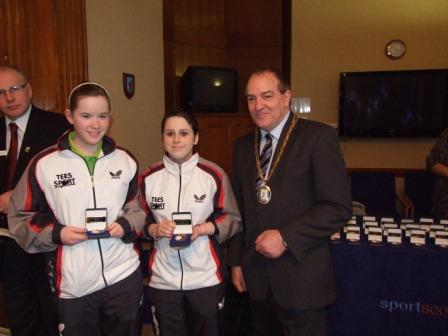 At the 2010 Junior and Cadet 6 Nations Championships, Team Ireland will travel home on Sunday night with 3 Gold medals – 2 in the Team events and one in the individuals. First to register Gold was the Cadet Girls Team of new National Senior Champion Ashley Givan and Edel O'Reilly of Munster. Under the guidance of NPC Louise Long, the cadet girls were undefeated, beating England to take Gold. Next up was the Junior Boys, fresh from their win at the Junior British League. the trio of McCreery, Robinson and Logue maintained their excellent overseas form to also pip England to the Gold, winning all 5 of their matches.
Paul McCreery registered another impressive performance, taking gold in Sunday's Individual event. With wins over compatriot Ashley Robinson in the Quarter Final and England's Lewis Gray in the Semi-Final, McCreery faced local home crowd favourite Sean Doherty. Having dropped the first two sets, McCreery showed steely determination to claw his way back into the match, taking the 3rd set 11-5, before levelling at 11-7. This set up a thrilling last set where McCreery held his nerve and justified his No.1 seeding to become Junior 6 Nations Champion. In the Cadet Girls, new National Senior Champion also progressed to the Individual Final, where she faced Vicki Smith. Smith proved too strong for Givan, taking the match in four sets. However Givan will be happy with Silver, adding to her already significant medal tally in 2010.
Congratulations to all medal winners, this has been the most succesful Junior 6 Nations for the Irish squad for some time.
Main Results from Sunday's Individual EventsJunior 6 Nations, Scotland 12 – 14 March, 2010
Junior Boys QFS:Paul McCreery (Ire) bt Ashley Robinson(Ire) 3/0Lewis Gray (Eng) bt Daniel Basterfield (Eng) 3/1Daniel 'Connell (Wa) bt Josh Jenkins (Wa) 3/0 Sean Doherty (Scot) bt Cameron Thomas (W) 3/0
Junior Boys SFS:Paul McCreery bt Lewis Gray 3/1Sean Doherty bt Daniel 'Connell 3/0
Junior Boys F: Paul McCreery bt Sean Doherty -8, -6, 5, 7, 9
Junior Girls QFS:Natalie Slater(E) bt Rebecca Kenny (I) 3/0Chloe Thomas (W) bt Sara Timlin (I) 3/0Alice Loveridge (Guer) bt Natasha Milliken (S) 3/0Chloe White (E) bt Megan Phillips (W) 3/0
Junior Girls SFS:Natalie Slater bt Chloe Thomas 3/1Chloe White bt Alice Loveridge 3/1
Junior Girls Final: Chloe White bt Natalie Slater 3/0
Cadet Boys QFS:Igor Morais(E) bt Neil Irwin (I) 3/0 Scott Barton (S) bt Lee Morgan (W) 3/1Lewis Wilson (W) bt Ying Jin (S) 3/0Jared Patel (E) bt Ryan Farrell (I) 3/0
Cadet Boys SFS:Igor Morais by Scott Barton 3/1Lewis Williams bt Jared Patel 3/2
Cadet Boys Final: Igor Morais by Lewis Williams 3/1
Cadet Girls QFS:Edel O'Reilly (I) bt Charlotte Carey (W) 3/2Charleigh Kirby (E) bt Beth Roberts (W) 3/0
Cadet Girls SFS:Vicki Smith (E) bt Edel O'Reilly 3/0Ashley Givan (I) bt Charleigh Kirby 3/1
Cadet Girls Final: Vicki Smith bt Ashley Givan 3/1
Junior Boys Consolation Final: Sam Logue (I) bt Calum Main (S) 3/0Junior Girls Consolation Final: Lynda Flaws (S) bt Hannah Avery (W) 3/1Cadet Boys Consolation Final: Laurence Stacey (GU) bt Joshua Stacey (GU) 3/1Cadet Girls Consolation Final: Donna Gillon (S) bt Nadine Wright (S) 3/2