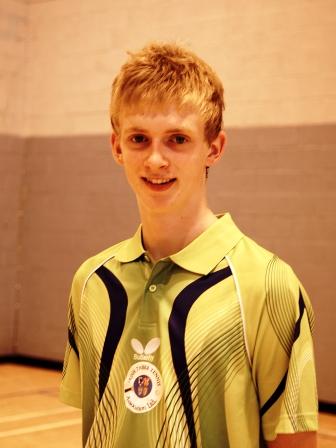 Irish Senior International teams led by Peter Nilsson(Men) and Arthur Brett(Women) competed in the 2009 Finland Open over the past week, with the players achieving some impressive results.
Team Event
In the Men's Team event, Ireland 1 (John Murphy and Conor Nolan) progressed to the 2nd Round following a 3-0 victory over San Marino. Here they came up against a very strong Spanish team(who eventually made the Final of the event, losing out to Russia)
and crashed out 3-0. The Ireland 2 team of Sam Hanley and Paul McCreery were eliminated by a high quality Holland team, despite Hanley producing a great performance to defeat CHUNG Wai Lung, who is ranked number 499 in the world, over 600 places ahead of Hanley.
Ireland's Women's Team also lost out 3-1 to the Spanish, despite a great win by Claire Nelson over Carmen SOLICHERO, who is ranked number 470 in the world(almost 500 places ahead of Nelson).
The Ireland/Ulster combination of Na Liu and Ashley Givan lost out 3-1 to a strong Swedish team of Marie Persson
Singles – Men(122 entries)
Sam Hanley was the star performer for the Irish Men in an event where the players are guaranteed lots of games, with every place being competed for. Youngster Hanley benefitted from the experience, taking a number of good wins, defeating Marius BUCYS of Lithuania in straight sets before another straight sets win over Belgium's Robin DEVOS. Following a loss to Darius Knight, he had a fine win over the higher ranked Scotland's Niall Cameron to secure the highest finish of the Irish team in 61st place.
John Murphy defeated Sergei MANTUROV of Estonia, coming back from 3-0 down to record a fine 4-3 victory. He then lost to Spain's Cantero, as the Spanish continued to cause misery for the Irish. Murphy then had wins over Samuli SOINE of Finland and Andrey TSYBIN to secure 86th place.
Paul McCreery also had 3 good victories, the best of which was a win against the higher ranked Tauber of Israel and finished in 101st position, with Nolan finishing just behind McCreery.
Singles – Women(62 entries)
With Na Liu withdrawn from the singles due to injury, Amanda Mogey performed the best of the Irish, with a solid win over Marte Grutle AASEBO to claim 45th place, one ahead of Claire Nelson. The inexperienced Ashley Givan will have gained a lot from this event and recorded a win over Finnish player Emma ROLIG to end her tournament.