Ballincollig TTC's Alan Walsh reports from his first international tournament in Hasselt, Belgium….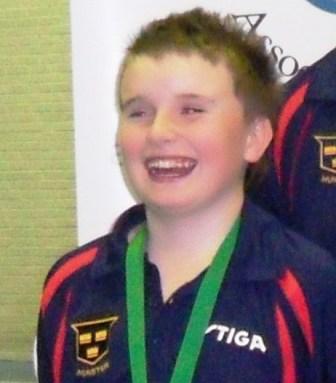 I was delighted to be chosen as one of the Irish Under 12 Team to go to the Hasselt Youth Cup in Belgium in May 2010. I met up with the team and coaches in Dublin Airport on 21st of May and we flew to Eindhoven and travelled on to Hasselt in Belgium. It was a very exciting experience for me as I had never seen such a large tournament. There were over 700 competitors from many different European countries and spread out over several different halls. The standard of competition was very high and it inspired me to come home and train even harder so that I could hopefully advance further in future competitions.
It was a great opportunity to become friends with people that are usually my opponents at national level. Why I enjoy table tennis so much is because unlike the other sports that I play, this is an individual sport. I love the competitive challenge that table tennis offers and I get to see different parts of the country and make new friends. I also like to set goals and targets for myself and try hard to achieve those.
Table Tennis is a great sport and I would recommend it to anybody whether they would like toplay it just for fun or at a competitive level.