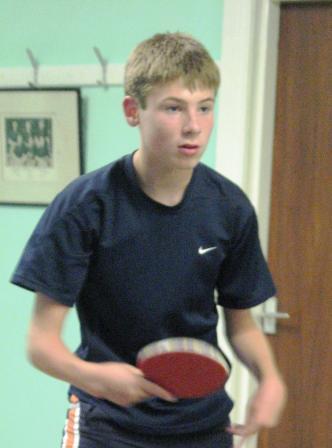 The prestigious UK School Games took place in Cardiff this year 3-7 September. This is a multi-sport event for school athletes run in much the same way as the Olympic Games. This year ten sports competed: Athletics, Badminton, Fencing, Gymnastics, Hockey, Judo, Swimming, Table Tennis, Track Cycling, and Volleyball. Each sport approaches the organisation of its event in a different way, but Table Tennis elects to divide into 8 teams, 5 from the English regions and 1 each from Northern Ireland, Scotland and Wales. In Table Tennis the team events are for Boys teams and Girls teams, together with individual Disability events. Northern Ireland has entered Table Tennis teams for all of the previous events in Glasgow, Coventry, and Bristol and Bath.
Until now we have entered athletes only in the main team events, but this year, for the first time, we had Stephen Halpin as our entry in the Standing Disability event. Stephen is entering his final GCSE year at Bangor Grammar School. He has a wide range of sporting interests in Soccer, Badminton, Tennis and Table Tennis, and has represented Northern Ireland at Soccer. Indeed, Stephen would ideally like to get into a career that involves sport. He has been encouraged in his sporting interests by his father Bryan, and more recently he has been undergoing an extensive training and coaching programme with Ulster Regional Development Officer, Amanda Mogey, and made exceptional progress.
Stephen went to Cardiff as a complete beginner in competitive Table Tennis, and was naturally nervous in his first match. Well, 2 games down, he listened and learned from his coach and came out a 3-2 winner. His next match was against Krysten Coombs from England, the recent winner of the World Dwarf Games title in Belfast, and had a very creditable 4-11, 7-11, 6-11 result ensued. The rest of the group matches resulted in a loss against a very experienced English player, and a tight win against his final opponent. This put Stephen into the 5-8 play-off, where, with the noisy support of the rest of the Northern Ireland team, he won his remaining matches to come 5th. Remembering that he was in his first event, and that he was beaten only by players with considerable tournament experience, this was a fantastic result, and bodes well for the future. Maybe in the next year or two he can emulate Paul McCreery and the Boys' team and come home with a UK School Games Medal.
At the UK School Games, Table Tennis is encouraging events in the Standing, Wheelchair, and Learning Disability categories. Competitors have to be Under 19 in the year of competition. Table Tennis Ulster and the Ulster Schools Table Tennis Association would like to encourage more participants both for the School Games and for domestic competitions. Anyone who seeks further information can contact the Table Tennis Ulster office at 02890 383811. Other information about Table Tennis is available on the website www.irishtabletennis.com/itta/ulster.
Tony Phillips
Ulster Schools' Secretary
Northern Ireland Team Manager