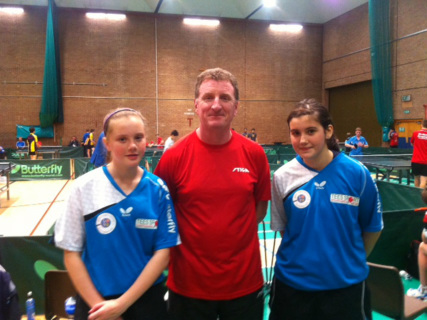 An Irish team led by Coach Shay Logue travelled to the recent Stockton 4* Junior event in England with medals on their mind. It was the girls on the team who delivered in fine style, with Kerry O'Mahoney and Kate Whelan(both pictured with Shay Logue – thanks to Munster TT and Mary Jo O'Mahoney) teaming up to claim the Cadet Girls Team title, with a fine 3-0 victory over Wales.
In the Cadet Girls Singles, Whelan made it all the way to the semi-finals, before losing out to Scot Lucy Elliott in a tough 5 setter. Whelan also had some great results in the Junior Cadet Singles, just losing out to Hibah Feredj also at the semi-final stage.
In the Grade 1 Girls Singles, Kerry O'Mahoney took runner-up spot, losing out to Welsh player Laura Edwards.
Of the Boys, all made it through their groups and Evin McGovern made it to the Quarter Finals.
Congratulations to all squad members and thanks in particular to coach Shay Logue and chaperone Marion Grace.
Full Squad:
DYLAN GRACE
CHARLIE FITZGERALD
DONIE MULLALLY
EVIN MCGOVERN
OWEN CATHCART
KATE WHELAN
KERRY O'MAHONEY