Flawless Peter Graham wins the North Antrim Table Tennis Open.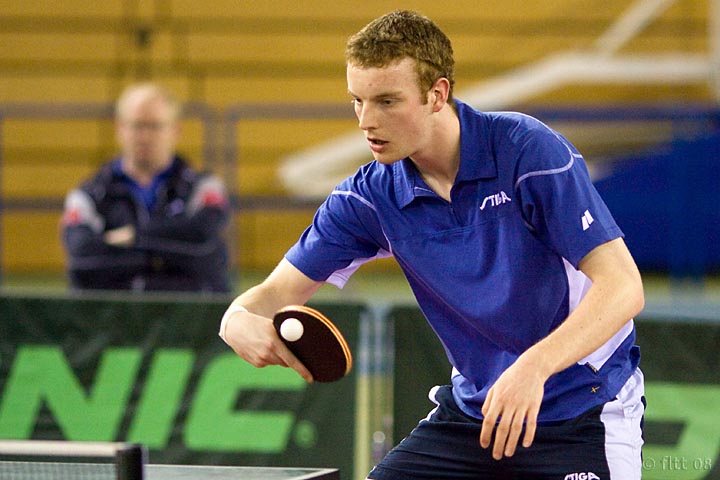 Report by Norman McBride
An excellent turn out of forty competitors travelled to the luxurious environs of Ballymena Academy to participate in the 2011 North Antrim Open. A new champion was assured as last year's winner Leo Stynen from Germany was studying for his Final examinations. But new Ulster number one Peter Graham headed the seeding along with Ulster number two Philip Wallace, with Ulster's top lady Amanda Mogey, Ulster's top veteran Pawel Sulkowski and Wexford's Brian Devereux all in attendance hoping to claim the vacant title.
To qualify for the Open event the players had to top a group of five players. Anyone in second place qualified for the Grade two event, those third in their groups qualified for the Grade three event and fourth and fifth placed places battled out for the Grade Four event.
In the group stages the top seed Peter Graham qualified from group one unscathed with convincing victories over Ballymena's Connor White, Coleraine's James Dillon, Larne's Byron Graham and Wexford's Sabina Devereux.
"Fast" Phil Wallace was top of group two defeating Ballyclare's Hannah Ireland, Dublin's Anthony Dobbs, Banbridge's Stephen Turkington and Ulster veteran Roy Coard.
The first upset came in Group three with Wexford's Brian Devereux finishing second to Pawel Sulkowski who went on to defeat Portrush's Anselm Brankin, Ballymena's Jonny Wilson and Robin Agnew.
Group four had the talented Amanda Mogey finish top with victories over Ulster number ten lady Emma Nicholl, Ballymena's Adam Greer, Ballyclare veteran Ian Davies and Belfast's Andrew Loane.
Group five was a real tough group with Dawid Sulkowski playing excellent table tennis to take top spot defeating County Antrim finalist Philip Jamison, Ballymena defender Andrew Herbison, Banbridge's Barry Dickson and Arnold Morgan.
In Group six Academy Strongtower's Gary Crawford qualified by defeating Belfast's Rita Okotebe, Ballymena's Jimmy O'Hara, Belfast's Ted Mehaffey and Ballyclare's Richard Davies.
Group seven had top seed Gervis Knox comfortably progress with wins over Ballyclare's talented Andrew Davies, Ballymena's Adam McIlmoyle, Belfast's Mark Gordon and Ballymoney's Neil Robinson.
The eighth and final group almost brought an upset as Academy Strongtower's Mark McAllister let two match points slip against eventual group winner Georgi Hubenov. Hubenov went on to defeat Newtownabbey's Thomas Davies, Ballymena starlet Peter McCrum and Ballymoney veteran Gary McClelland.
The eight qualifiers then formed two further groups with the top two in each group progressing to the semi- finals. The first group saw top seed Peter Graham and fourth seed Amanda Mogey progress to the semi final stages with Dawid Sulkowski and Georgi Hubenov finishing in third and fourth spots respectively. Indeed, the unseeded Sulkowski was a tad unlucky not to progress as he took a set off Graham and lost 12-10 in the fifth set against Mogey. The second group provided a few shocks as Gervis Knox topped the group with the unseeded Pawel Sulkowski finishing second both above number two seed Philip Wallace who secured third spot above his arch-rival Gary Crawford.
The semi-final saw Peter Graham progress in straight sets to the final with a fine win over Pawel Sulkowski. The other semi-final had Amanda Mogey battling against an inspired Gervis Know. The match was a very close affair with two like minded attacking players going toe to toe across the table. However it was Amanda Mogey who prevailed with her devastating smashes penetrating Knox's defences in the deciding game.
Unfortunately Amanda couldn't repeat the form of her semi-final victory and Peter Graham clinched the North Antrim title in straight sets. All in all a magnificent display by Graham who only dropped one set in the nine matches he played. But Mogey should take much credit for reaching the final of this prestigious ranking tournament and taking numerous top scalps in the process.
The Grade two event went to Wexford's Brian Devereux who defeated Philip Jamison in the semi-final. In the final he defeated Academy Strongtower's Mark McAllister who had edged passed Andrew Davies in his semi-final.
The Grade three event was won by "Battling" Barry Dickson from Banbridge who defeated Robin Agnew in the semi final and veteran Ted Mehaffey in the final. Ted had reached the final after winning a monumental five set thriller against his old adversary Byron Graham.
The Grade four semi finals were contested between Mark Gordon, Anselm Brankin, Arnold Morgan and Academy Strongtower's Peter McCrum. Mark Gordon won a thrilling five setter against Anselm Brankin while Arnold proved too experienced for the ever improving McCrum. The final was another five set cracker with Gordon managing to outlast Morgan in a game of hit and counter hit.
Brian Orr, the tournament referee, thanked all the competitors for their sporting behaviour, Ballymena Academy and host club Academy Strongtower for the use of the halls, Jimmy O'Hara for doing the presentations and Norman McBride for the hard work of arranging and running the tournament.