Fermanagh Table Tennis Association are delighted to invite you to the annual Stiga Fermanagh Junior Open. This year it moves to Fivemiletown College, which boasts some of the finest table tennis facilities in the country.
The event takes place on Saturday the 31st of October and play starts at 9.30.
With U10, U12, Cadets and Juniors and cash prices to be given for each event we expect some fantastic matches in all age groups.
This year the entry fee is extremely reasonable with prices ranging from £4-7 for one event and £8-12 for two.
There will be restaurant facilities available on site.
Last year saw this event attract over 120 entries from all parts of Ireland, including Dublin, Cavan, Mayo, Monaghan, Antrim, Tyrone and Fermanagh. Winners were as follows:
Under 10 Boys
Winner: Kevin Gilroy, Mayo
Runner up: Ryan McConkey, Newbliss
Under 10 Girls
Winner: Orla Timlin, Connaught
Runner up: Katie McGlone, Leinster
Under 12 Boys
Winner: Michael Jones, Clonaneese
Runner up: Jonathan Porter, Clogher
Under 12 Girls
Winner: Emma Ludlow, Belfast
Runner up: Meadhbh Slattery, Balgriffin
Under 14 Boys
Winner: Stephen Slater, Lisbellaw
Runner up: Pshemek Kossowski, Balgriffin, Dublin
Under 14 Girls
Winner: Ashley Givan, Clogher
Runner up: Manuela Kossowski, Balgriffin, Dublin
Under 17 Boys
Winner: Ashley Robinson, Clogher
Runner up: Maciek Szymanski, Balgriffin, Dublin
Under 17 Girls
Winner: Ashley Givan, Clogher
Runner up: Manuela Kossowski, Balgriffin, Dublin
The closing date for entries for this year's event is the 26th of October. Entry forms are available here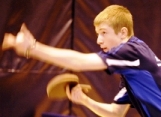 (pic – Last year's Junior Boys Champion Ashley Robinson)