The annual ITTA Awards were presented by ITTA President Joe Hickey to their recipients at the ITTA AGM held in Sport HQ, Dublin last Saturday, the 9th of June 2012.
President of the ITTA, Joe Hickey paid tribute to all award recipients –
"The pursuit and achievement of excellence by players, officials and volunteers requires ability, hard work and determination. The ITTA are delighted to recognise and honour the success of the recipients who have all worked for many years to arrive at the high standards required to be chosen for an award. I have no doubt that their success will be widely applauded and will encourage others to continue with their personal goals"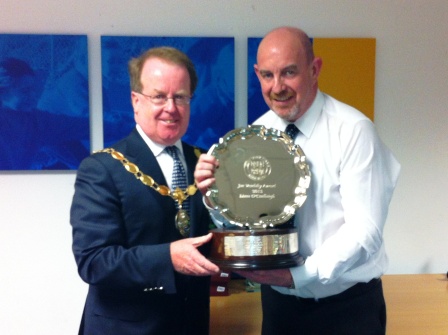 Liam O'Ceallaigh(pictured)
The Joe Veselsky Award is awarded in recognition of endeavour and achievement in administration; it is only open to members of the ITTA over the age of 35 who have served a minimum of 5 years in administrative positions within table tennis. It is seen to many as a sort of Lifetime Achievement Award, recognition of the recipient's work for Table Tennis over a long number of years.
This year the Awards Panel decided to award the "Joe Veselsky" to Liam O'Ceallaigh. Liam is a member of the original Raven Club which he has recently reactivated and he has run both the Raven Club and Northway TT Club for approximately 20 years. He has played in and been involved with C.Y.C Leagues for 20 years in Dublin. As a competitor, Liam played in the Junior Interpros in the 1969/70 season and 42 years on he led the Leinster Junior Interpros Squad that claimed the Victor Barna shield this season. He has organised table tennis in St. Mary's School in Glasnevin in the Secondary School League in Leinster and Sacred Heart BNS in the Primary Schools League. He has been involved in organising the local Community Games Table Tennis teams for over 25 years winning 2 national titles in the process.
Liam is a qualified umpire and has umpired at the World Special Olympics when they were held in Dublin in 2003. He has served the Leinster Branch for 15/20 years, being a member of the Branch's Executive Committee and is currently joint Hon. Secretary. All in all Liam has been a great ambassador and volunteer for Table Tennis in Ireland for many years, he is always there to help with setting up and down of halls at competitions or organising exhibitions and training for children. Liam was heavily involved in the early years of the ITTA Women in Sport Programme, bringing his knowledge of the game to bear on the many schools and clubs he became involved with.
Arnold Morgan
The STIGA Ireland Volunteer of the Year Shield is given to someone who gives up their time and skills to table tennis over the year. This year the recipient of the award was Arnold Morgan. Arnold is currently Honorary Secretary of Ulster Branch Executive Committee, this role in itself demands hours and hours of time dealing with correspondence from around the Branch and Sport NI requirements. He coaches regularly in Primary, Secondary Schools and Clubs around Banbridge and recently qualified as an ITTA Level 2 coach. He has worked tirelessly to get the school principals to agree to add table tennis to their "curriculum". The new club he set up recently in Banbridge has brought many new children into our sport with a large number of children in attendance. Recently he has become proactive in introducing some special needs children into Table Tennis.
Arnold was appointed Team Manager for the Sainsbury's 2012 School Games held in London in May and attended several meetings "across the water" leading up to this prestigious event. He is the Ulster Branch Representative and main organiser of the Table Tennis event for the World Police and Fire Games being held in Belfast in 2013. This event is the third biggest sporting event in the world after the Olympics and Football World Cup. Last August he was the main organiser of the table tennis event at the UK Transplant Games which was held in Belfast. He has been involved in an Ulster Branch working group on Affiliations. As a County Umpire he is regularly seen in the umpire's chair at many events around Ireland. He is always on hand to move tables and help in whatever way is required.
Edel O'Reilly
The Billy Marshall Award is awarded to the Best Junior/Cadet/Under Age player of the season. This year the award went to Edel O'Reilly from Ballinacollig in Cork. Edel had a truly successful season at both Junior and Senior Levels. She is the current Irish Junior Girls Number 1 and won her first National Titles this season in the Junior Girls and the Under 21's Women's Events. This season she won the Munster Open Junior Girls event. Edel was selected on the Irish Senior Women's Team which travelled to the World Team Championships in Dortmund this year. She performed fantastically well in winning 60% of her matches which helped the team finish 59th from 90 teams. Following her success at the World Team Championships she went in to the World Senior Rankings for the 1st time at No.781, an incredible start to her international senior career. Looking ahead Edel's performances have meant she is a member of the squad chosen to represent Ireland at the European Junior Championships in Austria in July.
The complete list of the recipients of the ITTA Awards 2012 is:
Anna Kelly Female Coach of the Year Award: Louise Long
Ken Strong Male Coach of the Year Award: Richard Butler
Press Officer of the Year: Jamie McConkey
STIGA Ireland Volunteer of the Year Shield: Arnold Morgan
Billy Marshall Award (Best Junior/Cadet Player of the Season): Edel O'Reilly
Eleanor McKee Trophy (Female Player of the Year): Amanda Mogey
Rhanbouy Trophy (Male Player of the Year): Paul McCreery
Joe Veselsky Award: Liam O'Ceallaigh