At this weekend's Connacht Open, held in Breaffy House, County Mayo, Hannah Lynch_Dawson turned in a performance of pure perfection to claim a treble of titles.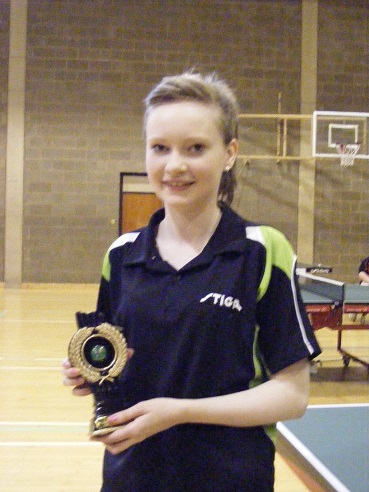 In the Women's event, Hannah was the top seed having started her season off tith a win at Senior Classification. She had wins over Amanda Taylor and Sarah Timlin before defeating 2nd seed Marta Zareba in the Final to claim the first provincial title of the season . Lynh Dawson paired up with home player Sarah Timlin to claim the Womens Doubles and with International team-mate Gavin Maguire to claim the Mixed Doubles title. A fine weekend for Lynch Dawson as she prepares for this year's Senior 6 Nations in Largs, Scotland.
On the Men's side, it was top seed Agurjanovs who was in dominant form and claimed his first title of the season over surprise finalist Sam Logue. Agurjanovs sailed through to the Final, with wins over Brian Devereux, Zak Wilson and Peter Graham. Logue came through an epic 5 setter against Matt Haynes, before beating Luke Dempsey and Tibor Pofok to set up a semi-final with Gavin Maguire. Maguire would have been heavy favourite here, but Logue produced some sparkling table tennis to claim a 3-1 win and set up a Final with Agurjanovs. Agurjanovs had a little bit too much for Logue on the day and claimed the Final and the title in style. In the Men's Doubles, Alan Walsh and Matt Haynes claimed the title for Leeside TTC. Full results here.
Connacht Senior Open
Breaffey House, Castlebar,
Co. Mayo.
Sat/Sun 11th/12th Oct

Men : 1. V Agurjanovis; 2. S Logue :3. G Maguire/ P Graham
Women : 1. H Lynch Dawson ; 2. M Zareba : 3. C O'Halloran/S Timlin
Men Dbls : 1. A Walsh/M Haynes
Women Dbls : 1. S Timlin/H Lynch DawsonMX Dbls 1. G Maguire/H Lynch Dawson
Class II : 1. B Dunleavy : 2. C Fitzgerald
U-21 Women : 1. E Thompson : 2. A TaylorU-21 Men : 1. Z Wilson ; 2. B Dunleavy
Vets : 1. D Butler : 2. K Devaney