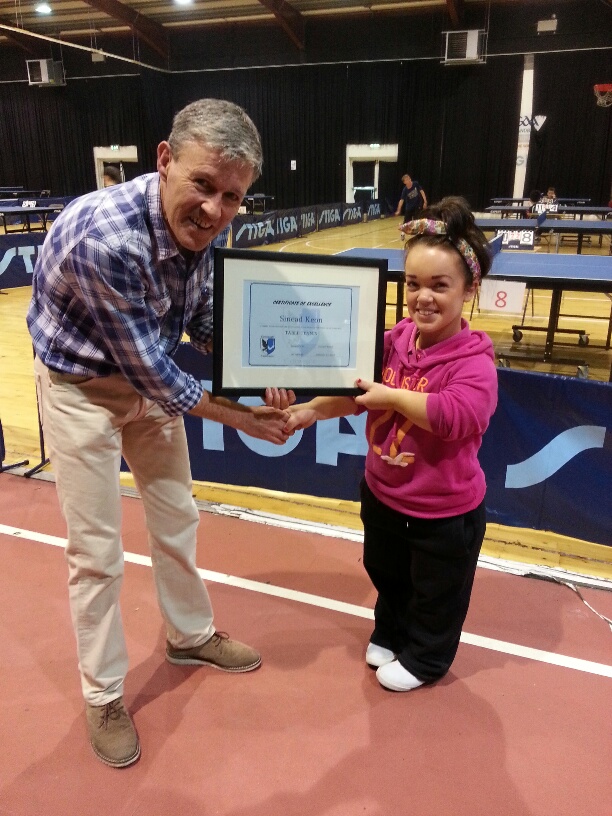 Certificate of Excellence for Connacht's Keon
Connacht's First Junior Ranking Event of the season proved to be a special occasion for the Branch with the welcome return of Sinead Keon from the World Dwarf Games recently held in Michigan, USA. Sinead returned as the new Open Women's Table Tennis Champion 2013.
On her way to the Final Sinead defeated Kimberly Dean, the Current UK Champion. This was sweet revenge for Sinead having lost to Kimberly in the National Games held in Birmingham in May of this year. The Final saw Sinead face Joy Stillen, the USA champion in what proved to be thrilling display of table tennis with Sinead taking the fourth set on deuce along with the Open Title.
The Connacht Branch presented a Certificate of Excellence to Sinead over the weekend and are immensely proud of her achievements. Sinead attributes her success to the dedication and support of all her coaches: Ronan Rooney, Rena McCarron-Rooney, Galway Speeders, Rory O Connor & Jimmy Hayes.
Well done Sinead!
Connacht Branch Secretary
Michael Barry