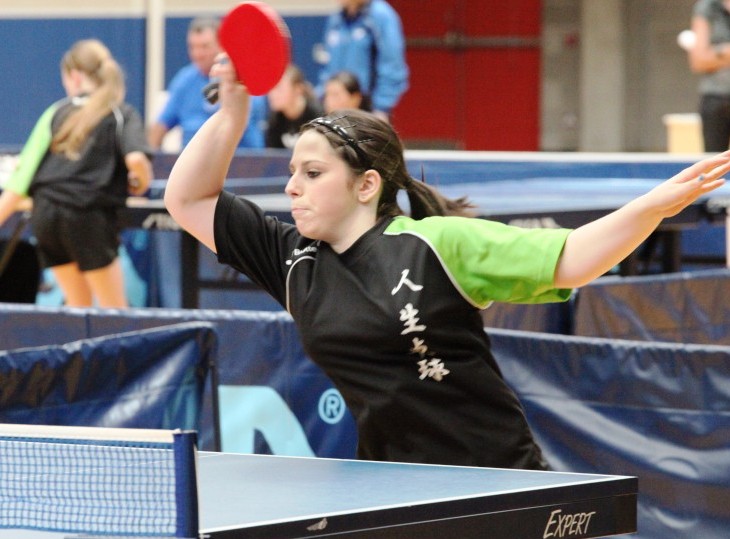 5 Irish players and 2 coaches are currently battling for results at the 2012 European Youth Championships in Schwechat, Austria. See below for an update on the performances in the Team events in advance of the Singles competition which gets underway today:
Cadet Girls Team
The Cadet Girls Team of Chloe O'Halloran and Hannah Lynch-Dawson were drawn in Group J against Ukraine and Bulgaria. This proved to be a stern test, and the girls lost 3:0 to Ukraine and 3:1 to Bulgaria, the only bright spot coming in Lynch-Dawson's victory in 5 sets of Maria Yovkova.
The Girls moved into their second group, looking for a win. They were drawn against Bosnia and Herzegovina, Azerbaijan and Armenia. They started well, with a fantastic 3:1 victory over Bosnia and Herzegovina, combining very well to claim a doubles victory 11:9 in the 5th, with Lynch Dawson also claiming two excellent victories in the singles. They then lost out 3:1 to Azerbaijan, Lynch-Dawson again on the mark, before closing out the group with a titanic 3:2 loss to Armenia. Again the girls combined well to record a doubles victory and Lynch-Dawson also claimed a win over Diana Khojagoryan(12:10 in the 5th) but it was not enough to prevent the defeat.
Finally, the Girls faced Luxembourg in their play-off game, claiming a 3:0 victory, with another strong Doubles performance and Lynch-Dawson and O'Halloran both recording Singles victories. The team finished overall in 33rd place.
Junior Girls Team
Ireland had a tough draw in Group H against Austria and Bulgaria. The team made up of Ashley Givan, Edel O'Reilly and Elayna McGlone struggled in their first encounter against the host nation, suffering a 3:0 defeat. They fought back in their 2nd match against Bulgaria in what was a thrilling encounter. The girls raced in to a 2:0 lead, with Givan and O'Reilly recording victories. McGlone was then beaten before Bulgaria caused a bit of a surprise, with Petrova beating Givan deuce in the 5th set and Lazarova also defeating O'Reilly in the final set to claim the match for Bulgaria.
Ireland then moved into their 2nd group, where they would face San Marino, Armenia and Belgium. Ireland claimed their first match over San Marino, with Ashley Givan recording two wins and McGlone storming to a win in an impressive performance over Chiara Boffa. In their next match, the girls again just missed out on the victory over Armenia in an agonising 3:2 defeat, Givan and O'Reilly claiming wins before O'Reilly was beaten by Llana Muradyan by the narrowest of margins, losing out 13:11 in the 5th set. In their final match, Ireland were comprehensively beaten by a classy Belgian team who claimed the group victory.
In their play-off game, the Irish faced Kosovo and claimed 33rd place with a 3:1 victory – Givan again consistent with two victories and O'Reilly also on the mark.