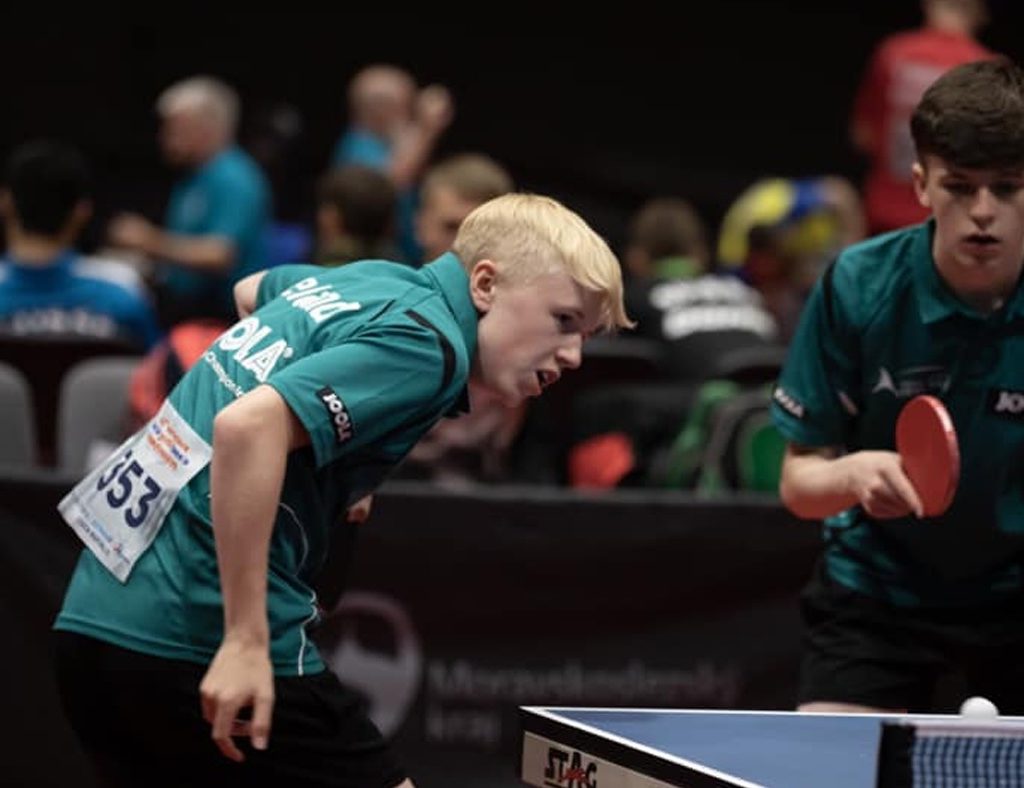 In the group stages, the Irish Cadet Boys team of Dillon Byrne, James Skelton and Tom Colvin were pitted against Estonia, Bosnia and Herzegovina and Malta. The Irish team were able to convincingly push their way to a group first place with 3-0, 3-1 & 3-1 wins respectively.
After the group stage, Ireland were drawn to play Slovakia in the Last 16 of the competition. Coming up against the number 8 in Europe, Goldir, James Skelton was able to draw down a 10-5 lead in the deciding set at 2-2, unfortunately he was unable to convert and Ireland went 1-0 down. Dillon Byrne stepped up to the plate and convincingly dispatched of the Slovak number 2 Ulherik 3-0. Going into the Doubles the pairing of Dillon and Tom Colvin making his introduction to the match lost out deuce in the 4th in an another incredibly close encounter which at one point had the Irish pair leading 2-1 8-4. Dillon Byrne was unable to pick the Irish hopes back up and he also ran out a 3-2 loser to Goldir the number 1. Agonisingly close to a tremendous feat but the team did themselves proud.
Moving on to the positional playoffs Ireland were drawn against Norway and Bulgaria, which proved to be an incredibly close group contest. Ireland beat Norway 3-2 with wins from Skelton, Byrne and the Byrne/Colvin in Doubles. Ireland lost 3-2 to Bulgaria with a win each from Skelton and Byrne and a deuce in the 5th loss in the Doubles for Byrne & Colvin. The narrowest of margins again lead to Ireland losing out on a count back and taking 3rd spot in the group which put them into an unfairly reflecting 25-28 playoff.
Unable to pick themselves up against Greece the Irish boys slumped to a 3-0 defeat but did manage to end the tournament with a 3-0 win over Estonia to sign off the tournament on a positive note. There is lots to be proud of from this Irish team and plenty to be built on for next year. Congratulations to the team of Dillon Byrne, James Skelton and Tom Colvin.
Results:
v Estonia 3-0 (Byrne 1.5, Skelton 1.5)
v Bosnia & Herz 3-1 (Byrne 2.5, Skelton 0, Colvin 0.5)
v Malta 3-0 (Byrne 1.5, Colvin 1.5)
v Slovakia 1-3 (Byrne 1, Skelton 0, Colvin 0)
v Norway 3-2 (Byrne 1.5, Skelton 1, Colvin 0.5)
v Bulgaria 2-3 (Byrne 1, Skelton 1, Colvin 0)
v Greece 0-3 (Skelton 0, Colvin 0, Byrne, 0)
v Estonia 3-0 (Byrne 1.5, Colvin 1.5)