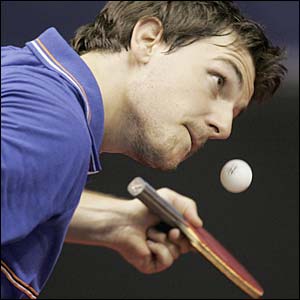 For the third time in the row, German star Timo BOLL will leave Russia 50.000 USD richer. BOLL defended his title once again and beat compatriot Dimitrij OVTCHAROV in the final of the Super Cup tonight in St. Petersburg. Vladimir SAMSONOV won the match for the third place.
Despite the huge support from the spectators, Dimitrij failed to jeopardize the status of the best European player. Timo was hardly challenged in two opening games, but had some difficulties in the third. OVTCHAROV leveled at 8:8, and put BOLL on first test. Young Dimitrij had a chance in the next game as well. "I played perfect we can not blame OVTCHAROV for a quick final. In addition as a left-hander and a player who knows his style very well I prevented him from attacking me with the serve. Dima lost that advantage and it affect his self confidence as well," explained BOLL.
The match against Vladimir SAMSONOV preserved the title of the most excitingt game at the Event, and one that was most challenging for the winner. "I had a good start, but Vladi fought back very hard in the second game. After I had a lead 8:4, he managed to win that set and opened the game. It was very good match." Vladimir SAMSONOV won the match for the third position and 15.000 USD, whilst for Kalinikos KREANGA there was the consolation in 10.000 USD for the fourth position.