NOVEMBER 2011 – Beech Hill Junior Paralympic Open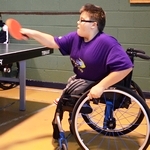 Report by Rory O'Connor

Juniors from Cork, Waterford, Kilkenny and Galway attended the first ever National Junior Paralympic Table Tennis tournament to be held in Cork. The event took place at the Beech Hill Table Tennis Club. The event catered (in more ways in one – thanks to the culinary skills of the Beech Hill parents) for both Standing and Wheelchair athletes. As there were a number of new players at this event the morning session was devoted to a classification event. The main event took place in the afternoon with three events down for decision.

The event was a great success and a measure of the effort by Rena and Ronan Rooney in Galway and the Beech Hill Table Tennis Club in Cork in providing the necessary facilities, equipment and coaching expertise in order to grow the game of Table Tennis within the Paralympic community.
Beech Hill Table Tennis Club is also greatly indebted to the COPE Foundation for the use of their facilities. The working relationship between COPE and Beech Hill Table Tennis goes back to 2001 and this weekend was a further development in the long and hopefully mutually beneficial relationship.
At Beech Hill there is a great opportunity now for people with physical disability to get involved in table tennis under the guidance of dedicated coaches, while in Galway Rena is looking after Emerging Table Tennis talent. Beech Hill's dedicated wheelchair ITTA coach, Rory O'Connor is planning a series of training camps for all Junior Table Tennis Paralympic players.
RESULTS:
In the Junior Girls event Annie O'Callaghan from the Beech Hill club took the honours from clubmate Veyda Brickley with Jessica Burke from Galway in 3rd place.
In the Junior Boys event The Honours went to Jack Colbert from Galway with Alex Hennebry and Jack Quinn from Beech Hill in 2nd and 3rd places.
The standing event was won by Paddy Vaughan from Kilkenny with Aidan Hynes from Galway in 2nd place.
In the Doubles event Aidan Hynes (Galway) and Paddy Vaughan (Kilkenny) beat Jack Quinn (Beech Hill) and Jack Colbert Galway) in final