Ballymena Adult Challenger Tournament hosted by Ballymena Table Tennis Club Saturday 16th April 2022
Over 50 table tennis players from the all over Ulster travelled to Ballymena on Easter Saturday to play in the annual Ballymena Adult and Junior Challenger tournaments organised by the local Ballymena Table Tennis Club and held in Ballymena Academy.
The Adult Challenger tournament split into two Divisions after the stage 1 round robin groups with all 8 seeds successfully progressing to Division 1 by finishing in the top two of their groups. In the Stage 2 Divisional round-robin half of the seeds failed to progress to the stage 3 quarter final knock-outs, namely, Des Flanagan. Paul Gallagher, Vladimir Brzak and Apoorv Sharma. The quarter finals saw two more seeds Matthew McCann and Rodney McKirgan(conceded) fall by the wayside leaving the two top seeds Mark McAllister and Ben Watson take on the unseeded Sean McAnaney and Oliver McQuillan in the semi-finals.
McAllister, who had earlier recovered from two sets down to defeat Barry Dickson (the conqueror of third seed Des Flanagan) in 5 tight sets managed to slip passed defender Sean McAnaney in four sets. Ben Watson took out the recently crowned Ballymena club champion Oliver McQuillan by a similar 3-1 score line. A tight final was anticipated and both players put on an exhibition of attack and counter attack table tennis with top seed McAllister recovering from a two sets to one deficit to defeat Glenburn's talented teenager Ben Watson 13-11 in the fifth and final set.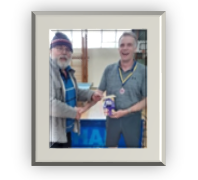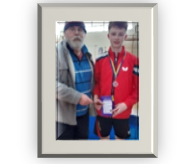 The Division 2 Adult Challenger was equally tight with Monaghan Collegiate teacher David Hamilton defeating David McCaughern (Osmond), Cormac Quinn (Banbridge), Peter Zagrapan (Ballymena), Tommy Houston (Ballymena) and Michael Witherspoon (Ballymena) to reach the final. There he met talented Ballyclare High School teenager Sebastian Kidd who had recovered from an early group defeat to Michael Witherspoon to reel off four straight wins against Stephen Milnes (Ballymena),
Michael Allen (Ballymena) William Walker (Bangor) and veteran David Witherspoon (Ballymena). In an attacking encounter experience triumphed over youth with David Hutchinson winning the Division 2 final in four close sets.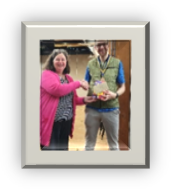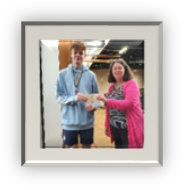 The junior challenger was split into three divisions after the initial round robin stage. The first two Divisions went to the talented Close family with Junior Close taking the Division 1 title and Karstan Close triumphing in the Division 2 event. A young Eimear Hutchinson matched the achievement of her father by taking the Division 3 title. The large group of you talented players seemed to have an enjoyable day and hopefully they all enjoyed their Easter Eggs when home. A big thank you to all the parents who brought the young platers to the school – your commitment is impressive and welcomed.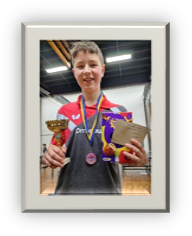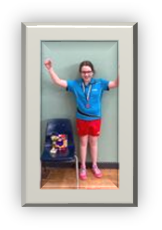 Stage 1 Open Groups
Group 1 Table 1
Pos
Group 5 Table 2
Pos
Mark McAllister Byron Graham Sebastian Kidd Michael Witherspoon
1 2 3 4
Matthew McCann David Mucka David McCaughern David Hutchinson
1 2 4 3
Group 2 Table 5
Group 6 Table 2
Ben Watson Stephen Milnes Peter Baird Myron Evans
1 3 2 4
Rodney McKirgan Jeff Irvine Paul McGuiggan Cormac Quinn
1 2 3 4
Group 3 Table 6
Group 7 Table 3
Des Flanagan Andrew Davies William Walker Tommy Houston
1 2 3 4
Vladimir Brzak Sean McAnaney Donna Ryan Michael Allen
2 1 4 3
Group 4 Table 1
Group 8 Table 3
Paul Gallagher Barry Dickson David Stewart Peter Zagrapan
1 2 3 4
Apoorv Sharma Oliver McQuillan David Witherspoon Bye
2 1 3 4
Stage 2 – Division 1 Adult Challenger
Group E (Table 3)
Names
Pos
Winner Group 1 Rup Group 7 Winner Group 8 Rup Group 2
Mark McAllister Vladimir Bezak Oliver McQuillan Peter Baird
1 4 2 3
Group B (Table 3)
Pos
Winner Group 4 Rup Group 3 Winner Group 5 Rup Group 6
Paul Gallagher Andrew Davies Matthew McCann Jeff Irvine
3 2 1 4
Group C Table 2)
Pos
Winner Group 3 Rup Group 4 Winner Group 6 Rup Group 5
Desmond Flanagan Barry Dickson Rodney McKirgan David Mucka
3 2 1 4
Group D (Table 5)
Pos
Winner Group 2 Rup Group 8 Winner Group 7 Rup Group 1
Ben Watson Sean McAnaney Byron Graham Apoorv Sharma
1 2 3 4
Stage 3 Division 1 Adult Challenger Knock Out
Division 1 Adult Q/Fs
Name
Name
Q/F1 Winner Group A V Rup Group B Q/F2 Winner Group B V Rup Group D Q/F3 Winner Group C V Rup Group A Q/F4 Winner Group D V Rup Group C
T1 T2 T1 T2
Mark McAllister Matthew McCann Rodney McKirgan Ben Watson
3 1 C 3
2 3 – 0
Barry Dickson Sean McAnaney Oliver McQuillan Andrew Davies
C= Concession
Division 1 Adult S/Fs
S/F1 Winner Q/F 1 V Winner Q/F 2 S/F2 Winner Q/F 3 V Winner Q/F 4
T1 T2
Mark McAllister Oliver McQuillan
3 1
1 3
Sean McAnaney Ben Watson
Division 1 Adult Final
Final Winner S/F 1 V Winner S/F 2
T1
Mark McAllister
3
2
Ben Watson
13-09-08-11-13
11-11-11-06-11
Ballymena Adult Challenger Tournament hosted by Ballymena Table Tennis Club Saturday 16th April 2022

Stage 1 Open Groups
Group 1 Table 1
Pos
Group 5 Table 2
Pos
Mark McAllister Byron Graham Sebastian Kidd Michael Witherspoon
1 2 4 3
Matthew McCann David Mucka David McCaughern David Hutchinson
1 2 4 3
Group 2 Table 5
Pos
Group 6 Table 2
Pos
Ben Watson Stephen Milnes Peter Baird Myron Evans
1 3 2 4
Rodney McKirgan Jeff Irvine Paul McGuiggan Cormac Quinn
1 2 3 4
Group 3 Table 6
Pos
Group 7 Table 3
Pos
Des Flanagan Andrew Davies William Walker Tommy Houston
1 2 3 4
Vladimir Brzak Sean McAnaney Donna Ryan Michael Allen
2 1 4 3
Group 4 Table 1
Pos
Group 8 Table 3
Pos
Paul Gallagher Barry Dickson David Stewart Peter Zagrapan
1 2 4 3
Apoorv Sharma Oliver McQuillan David Witherspoon Bye
2 1 3 4
Stage 2 – Division 2 Adult Challenger
Group F (Table 3)
Names
Pos
3rd Group 1 4th Group 7 3rd Group 8 4th Group 2
Michael Witherspoon Donna Ryan David Witherspoon Myron Evans W/D
1 3 2 4
Group F (Table 3)
3rd Group 4 4th Group 3 3rd Group 5 4th Group 6
Peter Zagrapan Tommy Houston David Hutchinson Cormac Quinn
2 3 1 4
Group G (Table 4)
3rd Group 3 4th Group 4 3rd Group 6 4th Group 5
William Walker David Burns Paul McGuiggan David McCaughern
2 4 3 1
Group H (Table 5)
3rd Group 2 4th Group 8 3rd Group 7 4th Group 1
Stephen Milnes Bye Michael Allen Sebastian Kidd
3 4 2 1
Stage 3 Division 2 Adult Challenger Knock Out
Division 2 Adult
Name
Name
Q/F 1 Winner Group E V Rup Group F Q/F 2 Winner Group F V Rup Group H Q/F 3 Winner Group G V Rup Group E Q/F 4 Winner Group H V Rup Group G
T3 T4 T3 T4
Michael Witherspoon David Hutchinson David McCaughern Sebastian Kidd
W W W
W
Peter Zagrapan Michael Allen Dave Witherspoon William Walker
Division 2 Adult
Sf1 Winner Q/F 1 V Winner Q/F 2 Sf2 Winner Q/F 3 V Winner Q/F 4
T3 T4
Michael Witherspoon David Witherspoon
W W
David Hutchinson Sebastian Kidd
Division 2 Adult
Final Winner S/F 1 V Winner S/F 2
T3
David Hutchinson
3
1
Sebastian Kidd
08-11-11-11
11-08-09-06