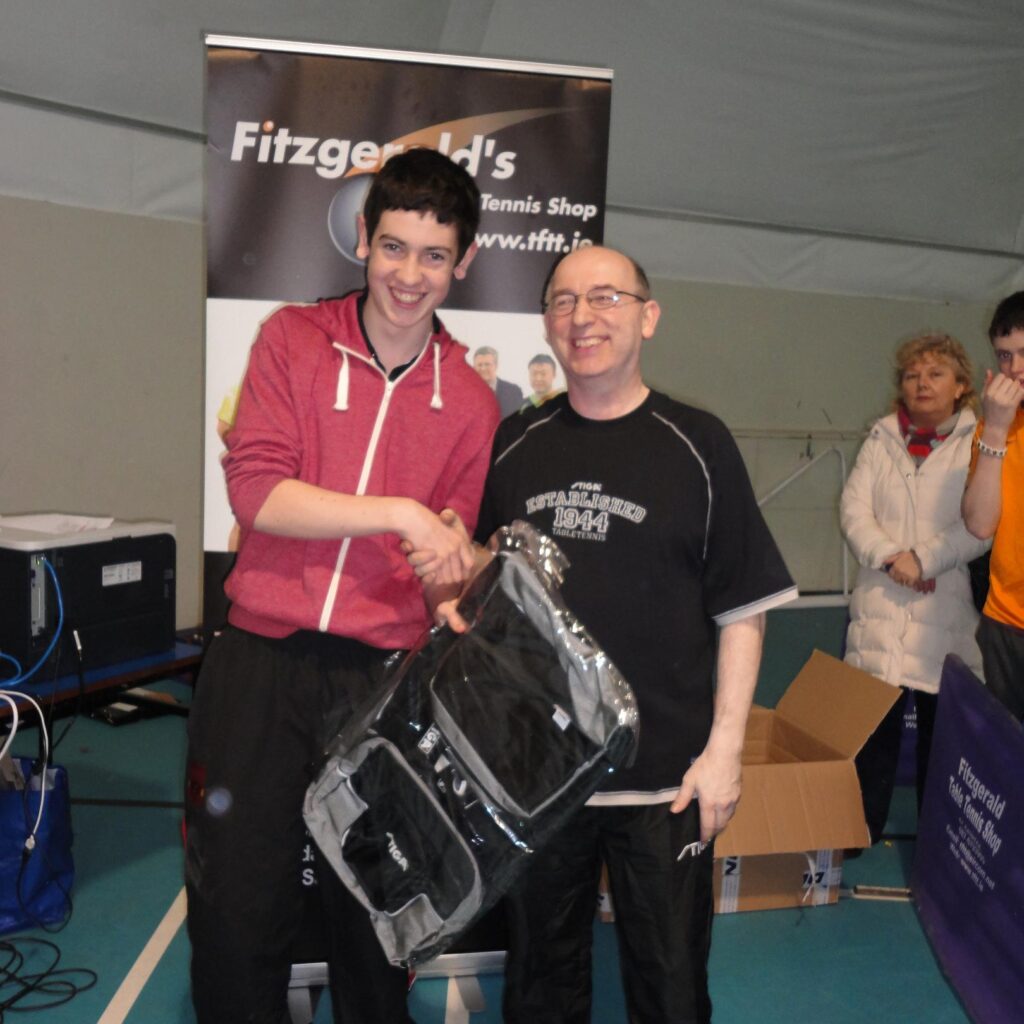 Pic: Shane O'Connor Division 1 Winner
On Sunday 13th January Ballincollig Table Tennis Club hosted it's first STIGA Challenger event in Colaiste Choilm Secondary school. The event was held in a purpose built basketball court which allowed us to fit in 19 tables. We had 96 players of all ability levels. Many players were playing their first competitive event. Tommy Fitzgerald representing STIGA on the day sponsored the first four divisions and prizes were awarded to the first four placings in each division.
Players were split into divisions of 8 based on ability with the top two players in each division playing off for the first four placings.
In division 1, Shane O'Connor from Ballincollig was too strong for all competition and went unbeaten in the event. Tralee are the up and coming club in Munster and Alan Hobbart took second place. Leah Daly from Ballincollig and Jack O'Brien of Leeside took the final placings.
Division 2 was a closer affair with Adam Lazeryev from Cobh winning the division. Adam is a proving to be a strong competitor at Munster and national level. Once again Tralee took second place with late entry Kevin Johnson Horgan. Erik Olsson from West Cork and Fahad Buiz Mirza were third and fourth.
In division 3 Tralee were once more in contention with Darragh Boyd winning the event. Shane Murphy from all Ireland primary school champions, Scoil Eoin took second place while Kian Linehan from Ballincollig was third with Conor O'Callaghan from Beech Hill fourth.
Division 4 was a strong event for local hosts Colaiste Choilm with Alan Murphy and Dylan Murphy taking first and fourth place. West Cork took their second placing of the day with Michael O'Sullivan and Tralee completed the placings with Josh Hayes.
Ballincollig would very much like to thank Tony Higgins of Tralee table tennis club and the ITTA for all their support in helping to make this event such a great success.