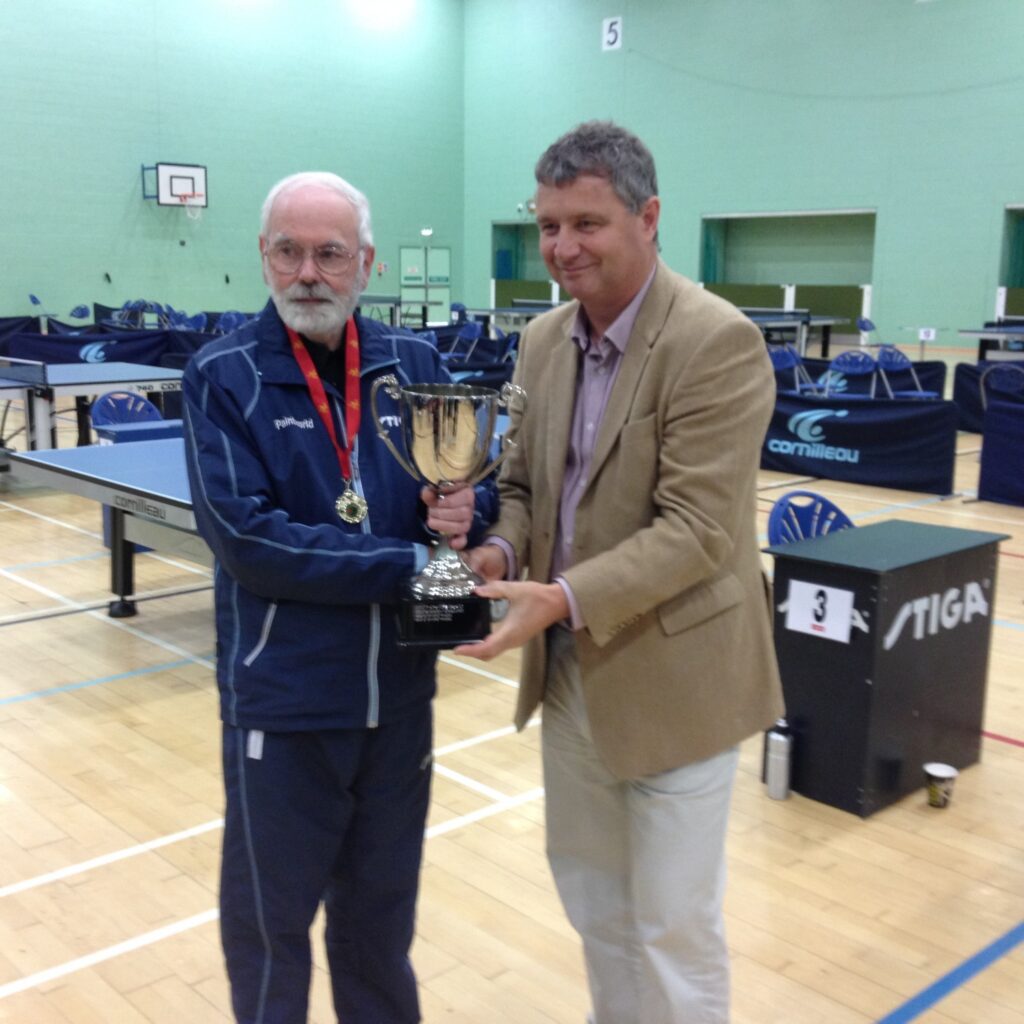 From scintillating all out attack with a hard Barna bat in the 1950s to resolute defence with anti-loop in the twenty-first century, Tommy Caffrey has always exemplified an indomitable will to win. His outstanding performance at the 2015 Veterans Six Nations Championships in Douglas will have given him great personal satisfaction.
Playing with Martin Pickles in the crunch team match against England, Tommy excelled himself. He won an enthralling encounter with Peter Radford in his first match. High quality, high intensity TT was standard throughout. Tommy consistently returned Peter's crisp attacking forehands, deftly mixing chop with float returns. The scoreline was -7,7,7,5! Paired with Martin in the crucial doubles match, they slipped from 7-3 up to lose the second set and drop to 0-2 behind. However, driven by Tommy's acute shot placement and several winning flicks from Martin, they won the next two sets. Tension in the final set was palpable, but Tommy and Martin squeezed home, 12-10, much to the relief of team mate Jim Sheehan.
With the team score tied at 2-2, in the final singles match, Tommy played Keith Powell, who has recovered well from recent health issues. In a dour, prolonged first set, Keith prevailed after the expedite rule was enforced. Strangely, both players seemed to rush somewhat thereafter, attempting to hit winners in unlikely situations. Tommy went on to win the match 3-1, securing the Gold medal for the Over 70s. Peter, Keith and Tony Brown were most worthy opponents on the England team.
In the Individuals event, Tommy proceeded serenely to the final, after beating Keith at the group stage. Peter overcame Keith in the knockout stages with some cracking forehand drives to set up a rematch with Caffrey in the final. However, contrary to expectations, with some subtle tactical changes, Caffrey exerted the upper hand early on, racing to a 2-0 lead. Peter's shot placement began to trouble Tommy in the third set, and he was better able to set up telling forehand winners. Without question, Peter had the advantage when he led 11-10! However, in that pressure environment, Peter served off for 11-11… Fortune smiled on Tommy when he got a net AND an edge to claim the next two points and the title. A strange denouement, but Tommy's relief was obvious. Gladly though, a win is a win. What a performance!