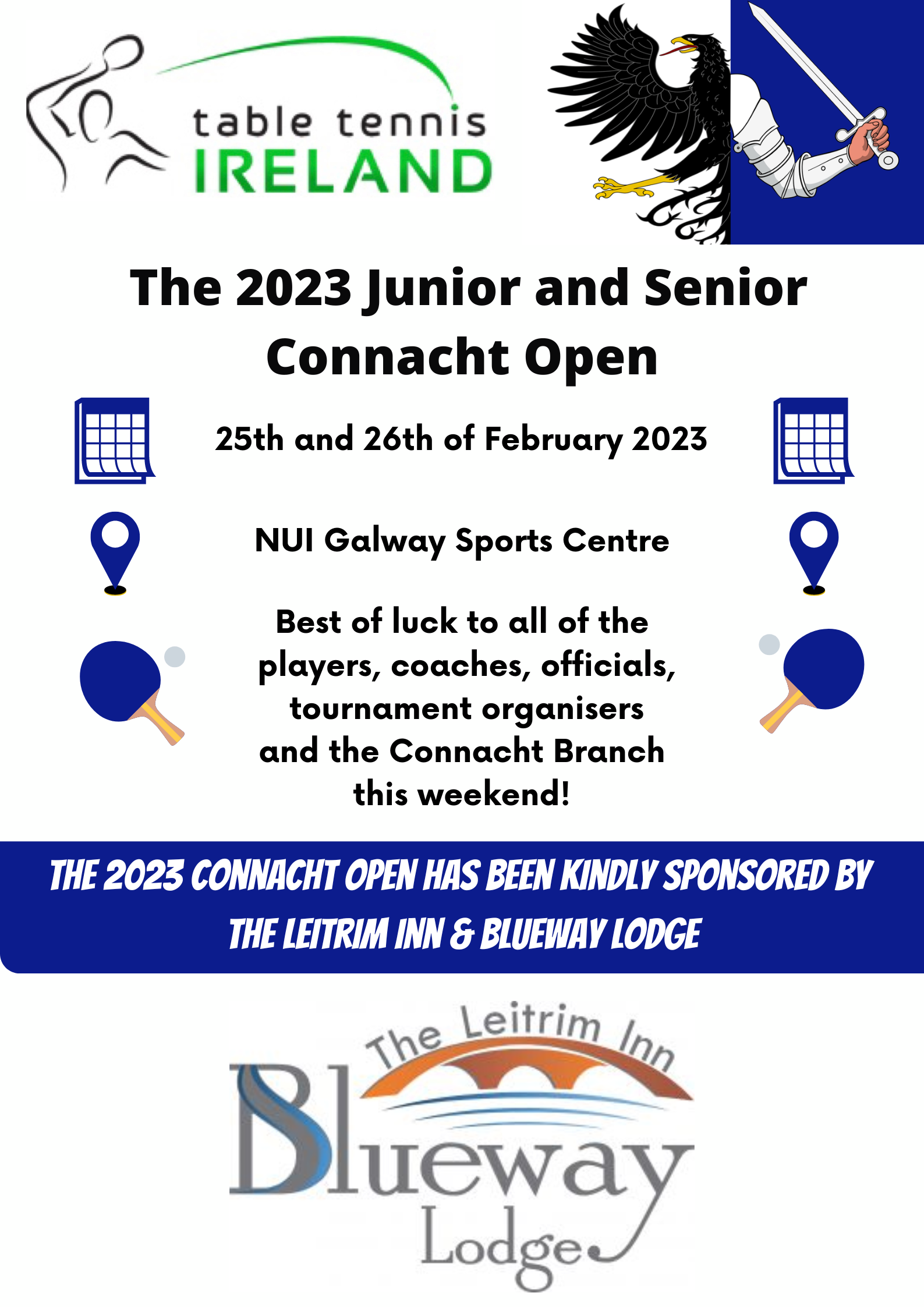 The 2023 Connacht Open is taking place this weekend on the 25th and 26th February at NUIG Kingfisher, Newcastle Road, NUIG Sports Centre, Galway
Please see below the draws for the events. Check-in from 8am and play starts 9am sharp Saturday and Sunday!
Draws Available to download here: https://tabletennisireland.ie/wp-content/uploads/2023/02/Connacht-Open-2023-first-round-groups-2.pdf
Playing Schedule:
Saturday 25th February
09.00 U15 Boys / U15 Girls (Cadets)
09.00 U21 Men / U21 Women
09.00 Masters
13.30 Men's Singles
13.30 Women's Singles
16.00 Restricted Singles
Sunday 26th February:
09.00 U19 Jun Boys / U19 Jun Girls
09.00 U13 Boys
11.00 Para Open
13.00 U17 Boys / U17 Girls
13.00 U11 Boys
(Times maybe subject to change, keep an eye out on TTI Social Medias/Website)
CHECK IN at least 30 minutes before scheduled start of your first event.
Live Streaming
Make sure to check out our YouTube channel for some live streams that will be taking place throughout the weekend:
https://www.youtube.com/channel/UCnbdL2IO82NUK4hG_muZRzA
Anti-doping Update:
The World Anti-Doping Agency (WADA) 2023 List of Prohibitive Substances has been updated since the 1st of January 2023. Sport Ireland launched the Anti-Doping Digital Wallet Card for 2022. It is essential that all players and support personnel whether coaches, physicians, or doctors attached to clubs or teams, consult this educational card, as well as the closely related Summary of Major Modifications and Explanatory Notes.
Anti-Doping: https://tabletennisireland.ie/anti-doping/
Enjoy the event and we would like to wish to wish all the players, coaches, officials, tournament organisers and volunteers the very best of luck at the weekend!