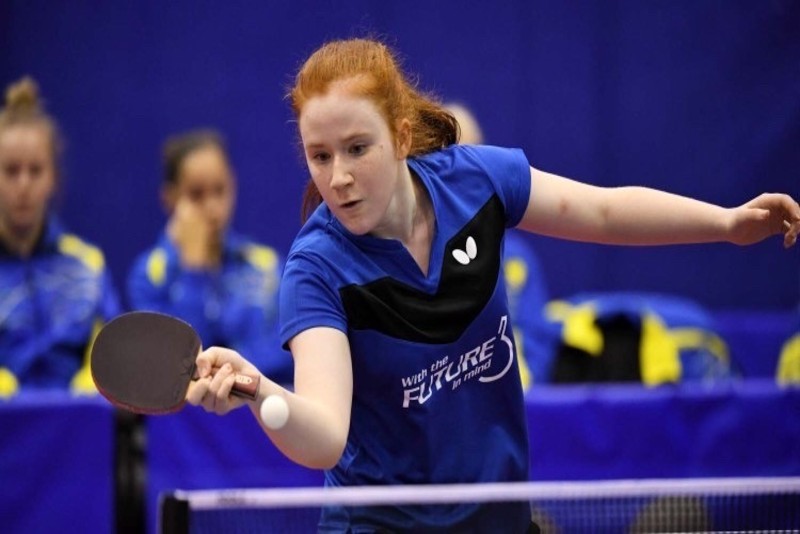 Sophie Earley
Category: 
Junior 
Club:
 Ormeau TTC 
Style of play
: Shake Hand Attacker 
Equipment:
Blade – Butterfly Apalonia Rubbers - Butterfly Tenergy 05 & Tenergy 64 
Highest Ranking:
Irish Senior ranked No.1, European ranked No.2 U15 Girls and World ranked No.8 U15 Girls. 
Titles Won:
2x U13 Munster Open Champion, 1x U13 Irish Classification Champion, 1x U13 Nationals Champion, 1x U13/U15/U18/Senior Connaught Open Champion, 1x U15 Irish Classification champion, 1x U15 
Ulster Open Champion, 1x U15 Munster Open C
hampio
n, 1x U18 Irish Classification Champion, 1x U18 Munster Open C
hampion, 
1x Ulster Open Women's Doubles C
h
ampion,  
Malacky
 Open U11 2017 C
hampion, Inte
rnational Primary Schools 2017 Champion, 
2018 Women's Ulster Open Winner, 2020 and 2019 Women's National Champion.
Best Wins:
Elena Zaharia (European No.1 Cadet) Vlada Vorinina (European No.2 Cadet) and Tsai Yun-En (Taipei No.1 Cadet)

Best Experience: Getting to the final of the Czech Junior ITTF in the junior girls doubles with Anna Hursey. It was fantastic to play in my first final in the junior categories in an ITTF tournament.
 
Ambitions: My ambition is to play table tennis professionally and with passion, as well as hopefully standing on a podium in the Olympic Games.